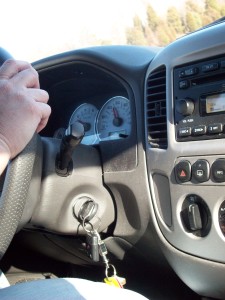 The summer driving season is just around the corner. Time for vacations, trips to summer camp and the like.  Gas prices are expected to remain low.  In fact, the federal government is expecting gas to be at its lowest since the summer of 2004.  So, the roadways will likely be busy and, unfortunately, dangerous.  Here are a few tips for making sure you and your family stay safe including one you might not know.
The Tennessee Department of Safety and Homeland Security offers licensed Tennessee drivers the ability to add emergency contacts to their driver's license online. So, if you are involved in an accident, emergency workers can quickly contact your spouse, parents, legal representative, etc. If you are unconscious, this could save valuable time in a medical emergency as your contact could provide medical history, information on any medications you are taking, etc.   In addition, not only will your loved ones be alerted to the emergency quicker but they can begin helping quicker. For instance, maybe at the time of the accident you were on your way to pick up your daughter from school, if your spouse is quickly alerted to the accident, he could get someone to your daughter promptly. The process is simple. Just go to www.dl.safety.tn.gov.   The 7th star on the page is a link for Manage Emergency Contacts. Click it, fill out the requested information and hit submit. Now, your emergency contacts are linked to your driver's license number.
Register your vehicle and your tires with the manufacturer so that you are kept updated on any recalls. Last year, the National Highway Traffic Safety Administration oversaw a record number of recalls. If your vehicle and tires are not registered, the manufacturer cannot notify you directly. Vehicles and tires are only recalled if there is a safety defect or if they fail to comply with Federal Motor Vehicle Safety Standards. So, recalls are serious business.   At www.nhtsa.gov, you can search to see if there are any recalls affecting your vehicle, tires, child safety seats, etc. You can also sign up for safety alerts.