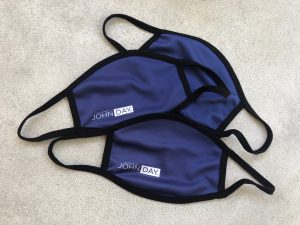 Well, we could all certainly use some more beauty in our lives these days.  We often think of beauty as a physical attribute but it is so much more.  Kindness is beautiful, justice is beautiful, truth is beautiful, courage is beautiful and so many more things.  In honor of National Make Life Beautiful Day, we wanted to announce another give-away from our office.  On June 27th, we are going to be giving away 1,000 washable cloth masks from the parking lot of our Murfreesboro office.  Just drive through and get a free mask.  More details are below.  In addition, below are some easy suggestions on how you could make life beautiful tomorrow, and we would love for you to comment with some suggestions of your own.
On June 27th from 10:00 a.m. to 12:00 p.m., the Law Offices of John Day will be giving away 1,000 washable cloth masks at our Murfreesboro office located at 1639 Medical Center Parkway.  All you need to do is drive through and pick up your mask.  We will be wearing masks ourselves and handing them out as you come in the parking lot so you do not even need to get out of your car.
Now, here are some easy ways we could all make life more beautiful tomorrow (and everyday):
Let another driver into traffic;
Write a thank you note for a front-line worker like your UPS driver;
Email or call a friend or family member you have not talked to in a while;
Buy coffee for the person in line behind you;
Hold the elevator for someone;
Bring in donuts for your co-workers;
Make a donation, in any amount, to a charity that is important to you;
Leave a positive review for a business that you enjoy or rely upon;
Give someone a compliment;
Connect your Amazon account to a charity or school;
Pick up any litter you see while out and about;
Write a positive quote or message on the sidewalk in chalk;
Help an elderly neighbor get their groceries or mail or sweep their walk;
Thank someone who has helped or supported you in the past;
Apologize to someone you may have hurt or wronged;
Bake or buy some cookies and share them with your neighbors;
Tell your best joke and make someone laugh;
Stand up for someone who needs it;
Give an extra generous tip;
Give someone an unexpected gift even if it is just a flower picked from the yard. 
No act of kindness, no matter how small, is ever wasted.  ~ Aesop
After a serious accident, it can be hard to see the beauty in life, but at the Law Offices of John Day, we do our best each day to try and improve the lives of our clients by helping them through the legal process web so that they can receive the financial recovery they need and deserve.  If you need us, give us a call.  We have three convenient office locations, and we will always come to you if you can't come to us for any reason.
Murfreesboro: 615-867-9900
Nashville: 615-669-3993 
Brentwood: 615-742-4880
Toll-Free: 866-812-8787
#makinglifebeautiful #prettyisasprettydoes