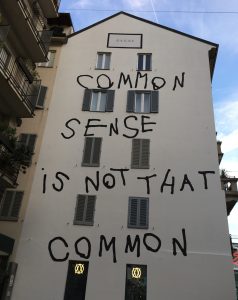 November 4, 2021 is National Use Your Common Sense Day.  Yes, we are serious.  Our only problem with this particular national observance is that it is limited to only a day.  Quite frankly, and I think most of you will agree, it should be Use Your Common Sense Day every single day.  At the Law Offices of John Day, we see the results of failing to use common sense so we have some suggestions on where people might want to concentrate their efforts. We encourage you to join us in our little rant and add your lack-of-common-sense pet peeve in the comments. So here we go, this is our list:
Drivers failing to use their turn signal.
Companies that scrimp on safety in order to increase profits.
Drivers riding in the fast lane with traffic piled up behind them or whizzing by them on the right.
Dog owners who do not sufficiently control a dangerous dog.
Drivers ignoring speed restrictions especially in school zones.
Boaters who do not keep a proper distance from other vessels.
Truck drivers who violate the hours-of-service requirements.
Boaters who follow too closely in your wake while towing a skier, surfer or tuber.
Drivers of cars and boats who use their phone when they should be driving.
Drivers who pass a stopped school bus displaying its flashing lights and stop sign.
Companies that fail to adequately train and supervise their employees and thereby put customers and others at-risk.
Drivers of cars, boats, motorcycles, or any vehicle who operate their vehicle while intoxicated.
Aggressive drivers whether from street-racing, road rage or over-confidence.
Owners of vehicles, dogs, businesses, etc. who fail to secure adequate insurance to protect anyone who is hurt by their actions or inactions.
Bars, restaurants, and clubs who over-serve patrons, who then cause accidents due to intoxication.
Drivers who refuse to share the road with bicyclists and pedestrians.
Property owners who fail to keep their property in a safe condition for visitors and tenants.
Pool owners who do not have proper equipment such as drain covers and guarding to prevent drownings and near-drownings.
People, including other lawyers, who think litigation is a game or a lottery.
Insurance companies that will only treat injury victims fairly when forced to do so by an attorney.
With a little more common sense and due care, we could avoid a lot of "accidents", so let's all strive to make every day Use Your Common Sense Day.  And if you have been injured by someone who was not using their common sense, we are here to help.  We offer a free initial consultation and our award-winning attorneys only get paid if we recover money for you and your family.  To get started, simply give us a call at one of our three Middle Tennessee locations.  And as always, if you can't come to us, we will gladly come to you.
Nashville: 615-669-3993
Murfreesboro: 615-867-9900
Brentwood: 615-742-4880
Toll-Free: 866-812-8787