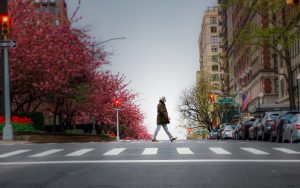 Whether you live in downtown Nashville or out in the country, we are all pedestrians.  For example, when you drive to the grocery store or to the football game and you get out of your car to walk into the store or to the stadium, you are a pedestrian.  So pedestrian safety impacts each one of us.  Nationwide, a pedestrian is killed every hour and a half.  In Tennessee, crashes involving pedestrians are increasing. And more locally, last year, Nashville alone had its worst year of pedestrian deaths with 39 and is on pace to surpass that horrible mark this year. Do you know Tennessee law with respect to pedestrians? Read on for a refresher and for tips on staying safe.
First, pedestrians are permitted on all Tennessee roadways except for those that are access-restricted such as the interstate, and drivers have a responsibility to avoid colliding with pedestrians on any roadway.  More specifically, drivers must stop at marked crosswalks for pedestrians in school zones and must yield at unmarked crosswalks for pedestrians in school zones.  A marked crosswalk is one in which there is paint striping or other indicia of a crosswalk.  Most intersections in Tennessee are unmarked or without paint striping but they are still a legally-recognized crosswalk. Drivers must not overtake or pass another vehicle stopped at a crosswalk.
Of course, the same behaviors that can help prevent any type of car accident also apply to pedestrian accidents.   Slow down.   As speed increases, there is an increased risk of serious injury or death for pedestrians.  Do not drive distracted.  Tennessee law requires drivers to devote full time and attention to the operation of the vehicle. In other words, do not put on make-up, read the newspaper or a book (yes, we have seen this) or engage in other activities in the vehicle that detract from your full time and attention to the roadway.  Since 2019, it has been illegal to even hold your phone and drive, so put it away and certainly do not text and drive. Likewise, do not drive if you have had too much to drink or are under the influence of drugs (prescription or otherwise).
One last tip for both drivers and pedestrians: if you do not have uninsured or undersinsured motorist coverage, get it.  In Tennessee, 1 in 5 drivers does not have any insurance whatsoever.  And a large percentage of drivers only have bare minimum coverage.  If you are injured in a car accident or as a pedestrian by a driver without insurance or with only minimum coverage, you are almost certainly going to want to have uninsured/underinsured (UM/UIM) coverage.  This type of coverage will compensate you for medical bills, pain and suffering, lost wages, disfigurement, future medical care, etc.  And yes, most policies will provide compensation even if you were a pedestrian and not in a car at the time of the accident.   UM/UIM coverage is not terribly expensive and it can make a tremendous difference for you and your family.
Our award-winning lawyers have successfully represented individuals who have been injured in pedestrian accidents and families who have been devasted by the death of a loved one in a pedestrian accident.  If you would like to discuss a potential case, our office offers a free, initial consultation so that you can understand your rights.  If we think you have a case and you hire us, we handle all pedestrian accident cases on a contingency basis, so we only get paid if we win.  To get started, give us a call at one of our convenient office locations below.  We offer phone, in-person and Zoom meetings with our lawyers.
Nashville: 615-669-3993
Murfreesboro: 615-867-9900
Brentwood: 615-742-4880
Toll-Free: 866-812-8787
Photo by Clay LeConey on Unsplash