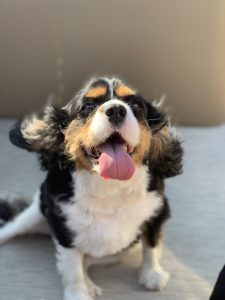 Today is International Day of the Dog, but if your dog is like Lincoln Isaac Day (pictured above), every day is Day of the Dog.  Other dogs are not as fortunate so animal advocates created International Day of the Dog to highlight dog issues and to encourage adopting a dog or donating money or supplies to a pet shelter, etc.  Of course, as injury lawyers, International Dog Day is a great day to remind everyone of some important safety issues when it comes to dogs.
In 2006, after Tennessee resident Dianna Acklen was mauled to death by 3 dogs while she was out walking in a rural, residential neighborhood, the Tennessee legislature passed new rules regarding dogs and dog owners' liability.  Tennessee law requires a dog owner to keep their dog under reasonable control and not allow a dog to run loose.  If the owner fails to do so and the dog harms someone, the owner is responsible with a few exceptions.   The law does not apply to a military or police dog that bites someone during the performance of its official duties.  There is no liability for the owner if the dog bites someone who is trespassing on private, non-residential property of the dog's owner.  Likewise, if the dog is protecting the owner or another innocent party from an attack, then no liability applies.  If the dog is in a crate or kennel or other secure enclosure, there is no liability if the dog bites someone.  Similarly, if a person provokes or harasses the dog, then the law does not impose liability.  Finally, if the dog bites someone while on its owner's residential property, the owner is only responsible if the dog owner knew or should have known the dog was prone to biting.  This is typically demonstrated by showing the dog had bitten or attacked someone before.
Dog bites and attacks can be very serious.  Roughly 800,000 people seek emergency medical treatment each year for dog bites and dog attacks.  Worse yet, approximately half of the victims are children.  For children, given their height, dog bites and attacks often occur in the face requiring plastic surgery to minimize scarring.   So we suggest, taking a minute or two, and review your homeowners insurance to make sure it provides coverage in the event your dog bites or attacks someone.  Some "bully" breeds can be excluded from homeowners coverage and require a separate insurance policy.  By ensuring you have adequate insurance, you protect yourself and anyone who might be injured by your dog.
Two more points unrelated to dog bites and attacks: when driving with your dog, make sure it does not become a distraction that could cause an accident.  And, depending upon the size of your dog, other occupants in the vehicle and where the dog is riding, consider securing your dog in a seatbelt.  An 85 lb. dog can cause tremendous injuries as a loose projectile in a car accident.
So on this International Dog Day, take your dog for an extra-long walk, give him a treat, a new toy or an extra long belly rub.  And, as always, we are here if you need help with a dog bite case.  Our award-winning lawyers are experienced in dog bite and dog attack cases, and we handle them on a contingency basis, so we do not get paid unless we recover money for you.  For more information on Tennessee dog bite law, click here then give us a call at any of our convenient office locations for a free, initial consultation to see if you have a case.
Nashville: 615-669-3993
Brentwood: 615-742-4880
Murfreesboro: 615-867-9900
Toll-Free: 866-812-8787