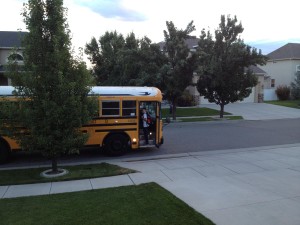 School is officially underway. In Williamson County, today was the first full day for kindergarteners. In surrounding area schools, it is the first day of school for students. Time to be on the lookout for the littles as they wait at the bus stop, enter and exit the bus and walk to and from school. Here are a few things you can do to help keep children safe this school year.
Slow down. I know we are all in a hurry to get to work or other destination, but if you get behind a bus and are delayed or leave your house a little late, do not speed to try and make up time. Better to arrive a little late than injure or kill a child.
A group of children waiting at a bus stop are prone to playing to pass the time. And if they are playing, children are not as focused on safety as they should be. So if you see a group of children waiting or you typically pass a bus stop on your morning or afternoon commute, be mindful of children's tendencies.
Exercise caution even after the child has exited the bus and crossed the street. A child who has forgotten something on the bus is very likely to dart back to get it.
If you see a bus approaching from the opposite direction, pay attention for the lights and stop sign that signal the bus is about to either load or unload children. A handful of times each year, I personally observe a driver blow through the bus' stop sign. I am willing to bet school bus drivers will tell you it is not an infrequent occurrence. Even if you do not see the flashing lights or the stop sign, the fact that the bus is on the street should alert you to look for any children who might be at a bus stop or walking on the street.
Please don't engage in distracted driving. Texting, eating, putting on make-up, etc. are activities that divide your attention. Be the safest driver you can be by devoting your full time and attention to the road.
By following these five simple steps, drivers can help keep children safe this school year.
At The Law Offices of John Day, P.C., we have been privileged to successfully handle all types of pedestrian and child accident cases. If you would like to discuss a potential case with one of our top-rated lawyers, just give us a call at 615-742-4880 (Nashville) or 615-867-9900 (Murfreesboro) or 866-812-8787 (anywhere else in the State of Tennessee). We will be happy to talk to you about your case, answer your questions and explain your legal rights. We handle all accident cases on a contingency so we only get paid if we recover money for you and your family. This means you have nothing to lose by exploring your legal options. We have helped recover millions of dollars for our satisfied clients and we would like to help you too.