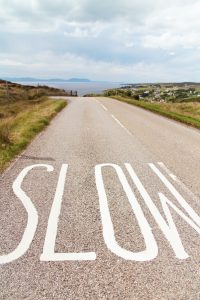 On this day in 1904, Henry Ford set a land-speed record of 91.37 miles per hour in Michigan.  A lot has changed since then.  Ninety-one miles per hour is hardly a record.  In Nashville, you can find folks doing that speed during rush hour on Interstate 65.  But like so many of our decisions and actions, drivers that speed are not just placing themselves at risk but others on the road as well.  Do you know how many accidents were caused by speeding last year?  More importantly, how do you keep you and your loved ones safe on the roadway?
In 2021, there were 935 fatal car accidents and 34,613 injury-causing accidents in the State of Tennessee.  The National Highway Traffic Safety Administration (NHTSA) estimates, that for the last two decades, one-third of all traffic accidents are speed-related.   So doing the math, roughly 11,837 Tennessee car accidents that resulted in either injury or death were caused by speed last year.  Think about that, last year in Tennessee, speed caused almost as many fatal and injury car accidents as the combined seating capacity at Belmont's Curb Event Center, The Ryman Auditorium and The Grand Ole Opry House.
Speeding is a factor in so many accidents for several reasons:
When you are speeding, you need more distance to come to a stop after perceiving a hazard on the roadway.
Speeding makes it more likely that you will lose control of the vehicle.
Speeding produces a double whammy of increasing the severity of the accident while at the same time reducing the ability of safety systems (seatbelts, airbags, etc.) to effectively prevent or minimize injury.
Even if you are driving within the posted speed limit, speed can still be a factor in an accident if you are driving too fast for road conditions.  For instance, rain and snow tend to require slower speeds. Likewise, road construction and poor lighting often warrant slowing down in order to be safe.
So, what can you do to protect yourself and your loved ones?  Here are 5 important steps:
Let's start with the obvious: respect both the posted speed limit and road conditions whether they are congestion, weather, visibility, construction, etc.
The easiest way to ensure compliance with Tip #1 is to leave yourself plenty of time to get to your destination. Better to arrive early than being required to drive like a maniac to avoid being late.  And remember, better to arrive late than not arrive at all.
Respect other drivers. Move over if someone wants to pass you.  Do not tailgate.  Signal lane changes, etc.
Keep your vehicle in good working condition so that your brakes and lights work well and make sure tires have adequate tread. Stopping distances increase significantly at tread depths under 3 mm.  And at the legal minimum tread depth, stopping distance can increase to 36.8 to 44.6% depending upon the temperature of the road surface and type of road surface (asphalt or concrete).
Even if you are doing everything right, you can still be involved in an accident, and that brings us to the last tip. In the State of Tennessee, 1 in 5 drivers do not have any insurance at all.  An even larger percentage only have the minimum limits, which are inadequate to pay for one night in the hospital in a trauma center.  Be sure that you have an adequate amount of uninsured/underinsured motorist coverage on your own policy.  This coverage protects you in the event you are injured by an uninsured or underinsured driver.
If you have questions about a car accident you were involved in, we would be honored to help.  Simply give us a call.  Our award-winning lawyers offer a free, no-obligation initial consultation. If we think we can help you and you decide to hire us, we handle all accident cases on a contingency basis, so we only get paid if we recover money for you and your family.
Nashville: 615-669-3993
Murfreesboro: 615-867-9900
Brentwood: 615-742-4880
Toll-Free: 866-812-8787