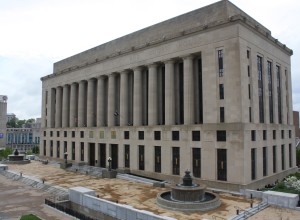 According to the Administrative Office of the Courts data, for the 2013-2014 reporting year, there were 10,232 tort cases filed in the State of Tennessee. (Tort cases are claims for injury or death and include medical malpractice or healthcare liability claims.) During that same time frame, 10,322 cases were concluded in some fashion such as dismissal, settlement or trial. However, very few were concluded by way of a trial. In fact, only 416 cases or 4% of tort or healthcare liability cases were tried in the entire State of Tennessee last year. So what kind of verdicts were returned in these 416 cases?
Of the 416 cases tried last year, the injury victim only won 128 of those trials. So what did they win? 99 of those victories resulted in an award of less than $100,000. 27 of the trials resulted in a verdicts between $100,000 and $1,000,000. And 2 cases resulted in verdicts of more than $1,000,000.
The largest verdict in the State was in Shelby County for $33,591.900.   The verdict was rendered in a case in which multiple medical errors led to a child being born severely brain damaged with cerebral palsy and, thus, requiring extensive, life–long medical care. Because of its size, the verdict skewed the average award upwards to $349,406. Without that award, the average verdict would have been $87,654,17.
The four metropolitan areas in the State (Memphis, Nashville, Chattanooga, Knoxville) account for 93.7% of all damage awards. Some judicial districts in the State did not have any tort cases tried. And still others did not see any tort cases even filed.
Here is the breakdown for some of the larger Tennessee counties:
Knox County (Knoxville) had 1,007 tort cases filed and 61 were tried. Of the 61 trials, the injury victim only won 9 of them.
Hamilton County (Chattanooga) had 659 tort cases filed and 37 were tried. Of the 37 trials, the injury victim won 16.
Davidson County (Nashville) had 1,432 tort cases filed and 57 went to trial. Of the 57 cases tried, the injury victim won 34 of them.
Shelby County (Memphis) had 2,210 tort cases filed and 95 went to trial. Of the 95 trials, the injury victim only won 36 of them.
Rutherford County (Murfreesboro) had 392 tort cases filed and 15 went to trial. Of those 15 trials, the injury victim only won 5 of them.
Montgomery County (Clarksville) had 241 tort cases filed and 12 were tried. Of those 12 trials, the injury victim only won 4 of them.
Williamson County (Franklin) had 237 tort cases filed and 3 trials. The injury victim only one of those trials.
Sumner County (Gallatin) had 228 tort cases filed and 16 trials. The injury victim only won 2 of those 16 trials.
Madison County (Jackson) had 212 tort cases filed and 14 trials. The injury victim won 8 of those 14 trials.
These trial statistics emphasize the importance of hiring an experienced lawyer to help you with your accident case. For factors you should consider when hiring a lawyer, here is a checklist. Then, take a look at our client testimonials, our awards and our successes. We have recovered well over $140 million dollars for our clients and we are here to help you. Call us at 615-742-4880 (Nashville) or 615-867-9900 (Murfreesboro) or 866-812-8787 (toll-free). We handle all accident cases on a contingency basis.