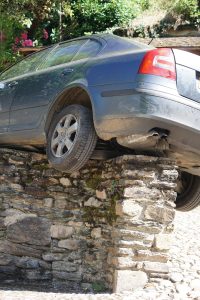 We have a lot to be proud of in the Volunteer State.  We make the best whiskey.  We are home to the Smokey Mountains, the Vols, the Predators.  Nobody does music like our State from country music in Nashville to the blues in Memphis.  I could go on and on.  But apparently, one thing we stink at is driving – according to a recent study.  We have all seen atrocious driving on our streets, highways and interstates, but read on to learn exactly how we became the first-runner-up in this less than esteemed category and who was the winner (or loser in this particular case)
First, the only state Tennessee beat was Mississippi.  Mississippi ranks first in bad driving.
Now, on to the study, Smart Asset looked at a number of factors when compiling its ranking system.  First, the study looked at the number of fatalities per 100 million vehicle miles.  It also used DUI arrests, ticketed offenses such as speeding and the number of uninsured drivers.   Here is how Tennessee placed:
Number of fatalities for miles driven: 16th In 2017, 721 people lost their lives in car accidents in Tennessee.
Number of DUIs per 1,000 drivers: 19th with 4.45 DUIs per 1,000 drivers
Uninsured drivers: 5th with 20% of Tennessee drivers completely uninsured. (Of course, this does not even account for the number of Tennessee drivers operating vehicles with only the barest of coverage)
Number of ticketed offenses: 16th
We can do better, Tennessee.  We have to do better.   Here are ten things you can do to help Tennessee improve its ranking and, more importantly, help prevent an accident:
Do not drive under the influence of any type of intoxicant.
Slow down.
Put down your phone and focus on the road.
If you are going to drive, procure insurance. Educate yourself on uninsured and uninsured motorist coverage and purchase some to protect yourself from the 20% of drivers on our roads who are not insured.
Be a defensive driver instead of an aggressive driver. Avoid tailgating, changing lanes with too little room or too quickly, etc.
Maintain your car including brakes, windshield wipers, tires, etc.
Buckle up. While this won't prevent an accident, it is incredibly important to preventing injuries so it will help reduce fatalities on Tennesse roadways.
Don't run red lights.
Watch for pedestrians, bicyclists, motorcyclists, etc. Tennessee law requires drivers to share the road.
Make sure you are in good driving condition.  This goes beyond not driving under the influence.  It means making sure you are not drowsy, not fighting with someone in the car, not distracted by kids or food, etc.
Every single day, our award-winning lawyers help people who have been injured or lost a loved one in a car accident.  We are here to help you if you need us.  Just give us a call at 615-742-4880 or 615-867-9900 or 866-812-8787 for a free, no-obligation consultation.  We handle all accident cases on a contingency basis so we only get paid if we recover money for you and your family.