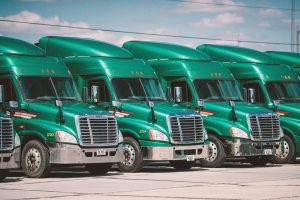 According to recent data, in just a single year, 4,282 large trucks were involved in fatal accidents, a 33% increase since 2011.  Another 107,000 trucks were involved in injury accidents.  (These statistics include trucks with a gross vehicle weight rating exceeding 10,000 pounds) Not surprisingly, trucking companies and their insurance companies are looking for ways to reduce the number of accidents involving their fleets of trucks.  Improved technology in the cab with drivers is helping safety managers monitor their drivers more closely in an effort to improve safety on our roadways.  And this technology could be useful to injury victims who are involved in accidents with large trucks.
Insurance companies have long promoted the benefits of safety meetings and safety incentive programs to trucking companies and offered discounts to those companies that had a robust safety program.  Yet, not unlike a lot of other drivers on the road, distraction continues to be a very real problem for truck drivers.  Of course, the most common form of distraction is cellphone usage but eating while driving, smoking and adjusting navigation systems or radios are also common forms of distraction.
As a result, many trucking companies are equipping the truck's cab with driver-facing and outward facing cameras that incorporate artificial intelligence capabilities.  The cameras can tell if a driver is using a cellphone, wearing a seatbelt, becoming drowsy, etc.   The cameras can also tell if a driver stops at a stop sign, changes lanes to avoid a vehicle or hazard on the shoulder of the road, etc.   One particular system assigns points based on positive actions such as stopping at 100 stop signs consecutively and deducts for conduct such as using your cellphone.  The system then scores each driver in real-time, so their score can go up or down depending upon their driving that day.
With these systems, managers of trucking companies can see in great detail what their truck drivers were doing before and during an accident.  And, of course, that information can be obtained by injury victims too.  For example, in a recent case, our firm was able to recover video of the truck driver in the cab immediately before doing a U-turn in front of our client.  As he made the illegal and dangerous maneuver on a four-lane highway, he made a comment to the effect that the other drivers were just going to have to wait and get of his way.  Obviously, this video was very helpful to our client's case.
In addition, if a trucking company continues to employ a driver who consistently engages in dangerous conduct behind the wheel, and falls below the company's stated safety guidelines, that could form the basis of a claim for punitive damages in certain cases.
In short, as technology becomes more widely used in medium and large trucks including tractor-trailers, the goal is to reduce the increasing number of fatal and injury truck accidents on our roads.  Just as importantly for our clients, this technology can also help to create a clearer picture of what happened immediately before and during a trucking accident.  But remember, as with almost all evidence, you cannot use it unless you have it.  This is just one more reason why it is important to hire an experienced trucking lawyer as soon as possible following a serious accident.
If you or a loved one has been injured in a trucking accident, our award-winning lawyers are here to help.  We represent truck accident victims across the State of Tennessee. We offer a free consultation and we handle all accident cases on a contingency, which means we only get paid if we recover money for you.   Give us a call to find out more about your legal rights and options.
Nashville: 615-669-3993
Murfreesboro: 615-867-9900
Brentwood: 615-742-4880
Toll-Free: 866-812-8787