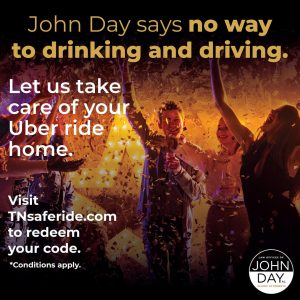 For years, The Law Offices of John Day has been offering free Uber rides on New Year's Eve in an effort to combat drunk driving, and we are doing it again this year!  Read on to learn more about the dangers of drunk driving, who is most likely to drive under the influence and how to take advantage of this NYE safe ride home program.
First, let's review what constitutes driving under the influence and some of the repercussions for drunk driving.  In Tennessee, a BAC of .08 is considered driving under the influence and is a criminal offense.  If you drive intoxicated, you face a myriad of problems including:
Incarceration
Monetary fines
Legal fees
Points on your license
Possible loss of employment
Much higher insurance rates
The inability to be hired in certain occupations
Physical injury to you
Physical injury to other persons
Embarrassment
If you are going out, plan a safe way to get home.  Call a taxi or ride-sharing service such as Uber or Lyft.  Designate a driver who will abstain from alcohol for the evening.  Sleep on a friend's couch or in the guest bedroom.  And if you are out with others, help them make good decisions.  Remember the classic signs of impairment are difficulties with balance, slurred speech, delayed reaction time, trouble with recall, decreased alertness, lowered inhibition and lack of judgment.
In Rutherford County, in 2020, there were 361 alcohol-related crashes, and the county ranked 22nd in the State of Tennessee for drunk driving crashes.   In 2021, Rutherford County had 387 alcohol-related crashes and moved up two spots to 20th in drunk driving crashes.  Some of these numbers may be attributable to the number of college students in Murfreesboro.  According to the National Highway Traffic Safety Administration, young people are most likely to drive under the influence.  Ages 21-24 make up 27% of all fatal crashes involving drunk driving, and about 25% of all fatal crashes involving underage drivers (younger than 21%) are related to alcohol.
Whatever the cause, we want to be a part of the solution for our community.  Using this link: https://r.uber.com/rnwFW0bn72T New Year's Eve party-goers will have the opportunity to receive a free Uber ride home (up to $25) within a 5 mile radius of Murfreesboro, TN between 10pm – 1am.   If you are going to drink, be smart and plan a safe ride home. Ride codes are on a first-come, first-serve basis, the ride limit is $25 and the total spend will be capped at $5,000.
At the Law Offices of John Day, our award-winning attorneys have been privileged to represent the victims of drunk driving and their families and we are here to help you too if you need it.  For more information on these types of cases, visit:
Car Accidents with Drunk or Intoxicated Drivers
We hope our Safe Ride Home program can help keep Murfreesboro roads safer on New Year's Eve.  If you have questions or would like to discuss a possible case, we are available anytime:
Murfreesboro: 615-867-9900
Nashville: 615-669-3993
Brentwood: 615-742-4880
Toll-Free: 866-812-8787