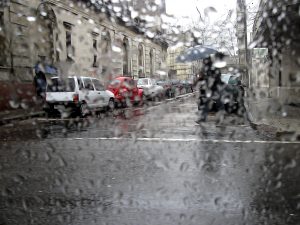 Did you know your risk of being involved in a fatal car or truck accident increases by roughly 127% during light precipitation? In a heavy rain or snow storm, the odds of being in a fatal car or truck crash surges to an increase of 246%. And, the most dangerous time of day to be caught in a rain or snow storm: morning rush hour.
These alarming stats were published in a recent University of North Carolina report. The report goes on to predict that, with climate change, we can expect the frequency and severity of storms to increase. And in Middle Tennessee, spring already tends to bring heavy rains like it did this weekend. To stay safe, we recommend the following tips:
1. Leave yourself enough time to get to your destination. One has to wonder if morning rush hour is the most dangerous time because folks are in a hurry to get to work so they are not late. While everyone wants to get home from work as early as they can, the same "being late" anxiety is not usually present and so people do not feel the need to push the limits with their driving. So if you think the weather could be bad, leave a little earlier so that you can slow down and be extra cautious.
2. Maintain your car. Obviously, in the rain, you want your windshield wipers to be working well, but you also need to make sure your brakes are within normal limits and that your tires have good treads. Check your headlights and tail lights to make sure they are operational so that other drivers can see you in even with the decreased visibility caused by rain or snow.
3. Avoid using cruise control. If you drive through ponding water, you may need to quickly decrease your speed which can be more difficult to do if you are using cruise control.
4. Remember how to handle a skid and teach any young drivers in your family how to respond. When you feel your car or truck skid, immediately take your foot off the accelerator and avoid slamming on the brake. Continue to look and steer in the direction you want the car to go.
5. Drive slower than you would under normal, dry conditions and leave more distance between you and other vehicles. Rain and snow can increase stopping distances so you want to avoid driving too fast and too close to others.
6. Wear your seatbelt and make sure everyone in your vehicle is buckled up. If you are involved in an accident, your seatbelt is your best protection against injury.
At the Law Offices of John Day, our award-winning lawyers handle all car and truck accidents on a contingency basis, which means we only get paid if we recover money for you. In addition, we advance all case expenses so you do not have to pay anything out of pocket to pursue your car or truck accident. And, if for some reason we are not successful, you owe us nothing. For a free initial consultation to see if we think we can help you, give us a call at any of our three convenient Middle Tennessee locations:
Nashville: 615-669-3993
Murfreesboro: 615-867-9900
Brentwood: 615-742-4880
Toll-Free: 866-812-8787