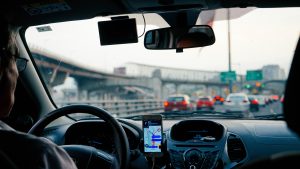 As we start to put the pandemic in our rearview mirror, travel for the holiday weekend is expected to be 60% greater than last year.  According to AAA, 37 million Americans are expected to make a road trip for the holiday, and Nashville is the fifth most popular destination behind only Las Vegas, Orlando, Myrtle Beach and Denver.  So whether you are staying home in Middle Tennessee or going somewhere to enjoy the holiday weekend, you can expect the roads in and around Nashville to be busy.  Here are top 10 tips for staying safe and sane.
Expect traffic congestion and leave plenty of time to get to your destination. It will not only help your blood pressure but also reduce the temptation to speed, run a red light or engage in other dangerous maneuvers.
Use an app to help you find the best and least congested route. Waze, Google Maps, Traffic Spotter are just a few.  This can help you avoid major delays.   Be sure to input your destination before you leave so that you are not distracted by it while driving.
Make sure your vehicle is in good condition before you leave. Check brakes, lights, windshield wipers, tire tread, tire pressure, etc.
Do not drive if you are under the influence of alcohol or drugs.
Get a good night's rest before leaving on your trip. Studies show that drowsy driving is just as dangerous as driving under the influence of alcohol or drugs.
Make sure all passengers are buckled up.
Let passengers handle the radio, respond to texts, fiddle with the navigation app, etc.  If you are driving along, find a safe place to pull over if you need to text, etc.  In Tennessee, it is against the law to hold a phone while driving.
Secure any loose objects in the vehicle. In the event of a sudden maneuver or accident, loose items can cause serious injuries, so put your dog in a harness, put your weekend bag and cooler in the trunk, etc.
Be on the lookout for pedestrians, bicyclists and motorcyclists and share the road.
Be a courteous driver. Use your turn signal.  Don't tailgate.  Let people into traffic.  If confronted with a discourteous driver, let it go.  Don't escalate the situation.  Road rage is on the rise with frequent reports of people being killed or seriously injured as a result of road rage.  If the thought of physical harm is not enough to calm you down behind the wheel, think about your wallet.  Experts estimate a reckless driving ticket will, on average, result in a 61% increase in your insurance.
Yes, I know, we said we had 10 tips. This is a bonus one, and it is super important. Before leaving on your trip, check your insurance policy to make sure you have adequate insurance especially uninsured/underinsured motorist coverage.  More than 20% of Tennessee drivers do not have any car insurance despite it being required by law. Uninsured/underinsured insurance coverage protects you in the event one of those drivers causes an accident and injures you.
We hope everyone enjoys the long weekend, and let's remember the debt we owe to our military.  We are grateful to all of our current military personnel for their service to our country and we mourn those that lost their lives in the performance of their military duties.  Be safe!