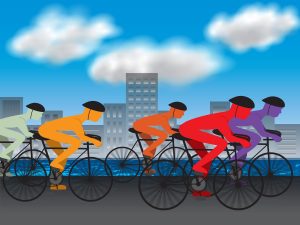 May is National Bike Month, and you can celebrate early with a free helmet for your child.  The Law Offices of John Day, P.C. is giving away free bike helmets to children this Saturday, April 28th at the 42nd Annual Pioneer Days at Cannonsburgh Village in Murfreesboro. The giveaway will take place between 10:00 a.m. and 4:00 p.m.  Multiple sizes will be available.  Attendees are encouraged to stop by for their free child's bicycle helmet but please arrive early rather than later as quantities are limited.
Did you know Tennessee law requires children under age 16 years of age to wear a helmet when they are biking.  Here are a few other facts you may not know:  
More than any other sport, children are more likely to suffer a serious head injury while bicycling yet less than ½ of children wear a helmet while biking.
As children get older, that number drops even more, most likely because older kids think it is not cool to wear a helmet or they are overconfident in their riding abilities.
Every year, 300,000 kids require emergency medical treatment due to bicycling accidents.
Each year, 26,000 children sustain traumatic brain injuries as a result of a biking accident.
A properly fitting bike helmet can reduce the risk of a head injury by a whopping 85%.
As spring weather continues to improve, more cyclists will be on the roadways and motorists are required to share the road. Roughly 1,100 bicyclists lost their lives in 2015 (the last year where complete data is currently available) due to collisions with motor vehicles.
In most Tennessee counties, there is less than a month of school left so children will be riding bikes a lot more.
For children, more injuries occur from bicycle accidents than from swimming pools, trampolines, playground equipment and skateboards combined.
After a biking accident, the helmet involved needs to be replaced.
This month, we will have more safety tips on safe cycling but for now we hope if your child needs a new bicycle helmet that you will stop by our booth this Saturday, April 28, 2018 at the 42nd Annual Pioneer Days at Cannonsburgh Village in Murfreesboro for a free one.  And we hope that if you need a lawyer, you will give us a call at 615-742-4880 or 615-867-9900 or 866-812-8787 for a free, no-obligation consultation.  Or, if you prefer, simply fill out this contact form and we will call you.
Our award-winning attorneys handle all accident cases on a contingency basis so we only get paid if we recover money for you.   For more information on bicycling accidents, click here.  For more information on attorneys fees and expenses, click here.  And finally, for more information on the litigation process, click on this link.