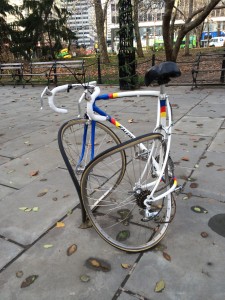 It is National Bike Month and the fantastic weather is practically begging cyclists to hit the road, so it is a great time to look at bicycling in Nashville and the rules of the road for bicyclists and motor vehicle operators.   So how is Nashville doing in terms of biking safety and biking accidents? 
According to the Nashville Area Metropolitan Planning Organization on biking, in terms of bicycle safety, only 56% of our roadways score a C or better for bicycle safety.  Think about that statistic this way:  a C is the equivalent of a correct answer on a test, and Nashville only got a C on  56% of its answers.  Overall, that is a failing grade, and we can do better.  In fact, other cities with roughly the same size population are doing better.
I recently saw an article comparing bicycling habits and accidents in both Nashville and Portland, Oregon as both have roughly the same size population.  Portland has taken federal highway funds and used them for improved transit for bicyclists.  In fact, in 1971, Oregon's governor signed a bill requiring 1% of its highway funds to be spent on both improving road safety for bicyclists and creating dedicated lanes and infrastructure for bicyclists and pedestrians.  A comparison of Portland and Nashville's bike routes is striking.  If the bike routes were spaghetti, Portland's would be monstrous bowl of noodles while Nashville's looks like the few strands of noodles that get stuck in the bottom of the pan.  That is not the only striking comparison.  In 2013, Oregon did not have a single bicycle vs. motorist death.  That same year, Nashville had 8 fatalities.  Last year, we again had 8 deaths and 375 injuries.  This year, we have already had 5 deaths and 50 injuries.
As bicycling continues to increase as a preferred mode of transportation, we can only hope that our state and local governments will increase funding to improve bicycling safety.  Until then, motorists need to remember some important laws as it pertains to bicyclists:
When passing a bicyclist, motor vehicle operators must leave a safe distance between their vehicle and the bicyclists. At a minimum, the motor vehicle driver must leave 3 feet of distance for the entire time they pass the bicyclist.
Drivers of motor vehicles must treat bicyclists in the same manner they would another car, truck or motorcycle. For example, if a bicyclists arrives at a stop sign first, the bicyclist gets to proceed first just the same as if they had been a motor vehicle.
At The Law Offices of John Day, P.C., our award-winning attorneys have helped clients in wide variety of bicycle accidents – from collisions with motor vehicles to loose dogs chasing and causing accidents.   If you or a loved one has been injured in a bicycle accident and would like a free, no-obligation consultation, just give us a call.  We handle all bicycle accident cases on a continency basis so we only get paid if we recover money for you and your family.  Call us at 615-742-4880 (Nashville) or 615-867-9900 (Murfreesboro) or 866-812-8787 (toll-free).  For more information on bicycle accidents, click here.