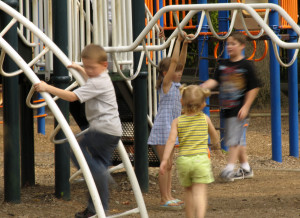 This morning, I saw two troubling articles about daycare incidences. The first was a toddler who was covered in broken-skin wounds from being scratched multiple times and bitten 10 times in a single day. It is tough to look at the pictures. Look, I understand: kids bite. And if your kid attends daycare, do not be surprised if at some point they are either the biter or the bitten. But the pictures of this child go way beyond the norm and clearly indicate a lack of supervision by the staff.
The second story that riled me up this morning was about two daycare workers who instigated fights between children and then filmed it calling it a "fight club" like the popular movie. They even shared the videos on Snapchat. I would like to send those two daycare workers to a fight club with Ronda Rousey. But, I digress.
Since these two stories were about daycare fails and because September is baby safety month, here are 5 things you can do to help keep your child safe while at daycare.
Do your homework before placing your child in a daycare facility. Talk to friends, ask your pediatrician for a referral, check out online reviews, look for schools that are accredited by either the National Association for the Education of Young Children or the National Association of Family Child Care, visit the site and talk to the director and staff, determine the child to caregiver ratio, observe the cleanliness, etc.
Ask for the credentials of the actual child care providers and meet the ones who will be the primary caregivers for your child.  Do you like them? Do their personalities seem well-suited for the job and your particular child?  Trust your instincts about whether you want them caring for your child.
If your child has allergies or other medical issue, make sure the staff has appropriate protocols and procedures in place to both prevent an allergic reaction or medical issue and to properly respond if one occurs.
Drop-in unexpectedly on occasion, if at all possible, just to observe the daycare's operations and how your child is doing during the day.
If a situation develops, such as your child is bitten by another child, gauge whether you feel the staff's response is appropriate. If you do not feel it is, do not be afraid to speak up and request additional or different steps be taken.
Child injuries happen at daycares — just as they can anywhere else — but the daycare is only responsible if they were negligent (did something or failed to do something that was below the standard of care). For example, if the daycare is aware of your child's nut allergy but serves a snack with nuts in it causing your child to have a serious allergic reaction, then they could be liable. Or, if a worker accidentally leaves a toxic substance (such as bleach or other cleaning product) accessible to the children and a child ingests it and suffers injury, then the daycare facility might be liable. But, if your child is simply playing and falls off the swing, the daycare facility is unlikely to bear any responsibility for the incident.
If your child has been injured at a daycare and you would like to discuss the incident with one of our award-winning lawyers, you can do so absolutely free. We offer a no-cost, no-obligation consultation where we will review your case with you, answer your questions and advise you of your legal rights. If we think you have a case and you hire us, we will handle your daycare accident case on a contingency basis, which means we only get paid if we obtain a settlement or win your case at trial. Give us a call at 615-742-4880 (Nashville) or 615-867-9900 (Murfreesboro) or toll-free from anywhere else at 866-812-8787.