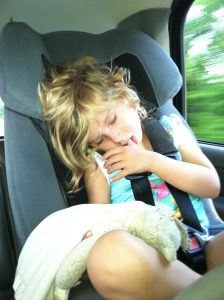 Did you know that for children ages 5 and older car accidents are the number one cause of death?  Every single hour of every day, 150 kids will be treated in an emergency room for serious injury due to a car or truck accident.  I am proud to report Tennessee became the first state in the nation to enact a child restraint law.  Since 1979, Tennessee law has required that children be properly restrained in a car, truck or SUV. Because next week is Child Passenger Safety Awareness Week, we thought it would be a good time to review the requirements of Tennessee's child restraint laws and give you some tips on how to keep your child passengers safe.
As your child grows and transitions from baby to toddler to tween, the safety devices they need in a car change as well.   This is because weight and height play important roles in how a particular safety device works.  Tennessee law requires the following:
Children must be a in a rear-facing car seat, that meets federal standards, until they are one year of age or twenty pounds.  The rear-facing car seat should be installed in the rear seat unless a rear seat is not available.   Many rear-facing car seats are rated for up to 35 pounds, and the National Highway Traffic Safety Administration as well as the American Academy of Pediatrics recommend children remain in a rear-facing car seat as long as possible.
Children between the ages of 1 and 3, weighing more than 20 lbs, must be in a forward-facing child safety seat that meets federal safety standards. Again, a rear-facing child seat can still be used for these ages as long as the child meets the weight requirements of the seat.
From ages 4 to 8, your child can begin to use a booster seat. A booster seat must be used for any child less than 4 feet, 9 inches tall.  A booster seat is necessary to ensure the seatbelt's geometry is appropriate and most effective for the child.
From ages 9 to 12, if your child is taller than 4 feet, 9 inches, they can simply use the vehicle's safety belt without the necessity of a booster seat. However, it is recommended children in this age group continue to ride in the rear seat if one is available.  When children do ride in the front seat, they should position the seat as far back from the airbag as possible.
Experts estimate that nearly three-quarters of all the car seats being used are not installed properly.  Hospitals, fire departments and police departments often have certified child passenger safety technicians that will perform a free safety check, and some even have certain days where they conduct checks on child passenger restraints so you do not even have to make an appointment.  So even if you have multiple kids and you think you are an old pro who installed the child passenger seat for the newest child correctly, you should still have a certified technician check it out.  Manufacturers often make changes to their products that can result in a subtle but important differences in how the child passenger seat is installed.  Here is a list of Vanderbilt University Medical Center car seat safety checkpoints, arranged by county.   And here is site that helps you find a car seat safety checkpoint by zip code.
As the driver, Tennessee law requires you to ensure that all children under the age of 16 are properly restrained.  So next week (and every week), take the time to make sure your car seats are installed properly and let's keep all the littles safe.
And, as always, if you or a loved one has been injured in an accident, give us a call to discuss your case.  The initial consultation is free and we only get paid if our award-winning lawyers recover money for you.  Call us at any of the numbers below to find out if we can help:
Nashville: 615-669-3993
Murfreesboro: 615-867-9900
Brentwood: 615-742-4880
Toll-Free: 866-812-8787
P.S.  The above photo is Kate Day, age 4, with Baby (a stuffed lamb) on her lap.