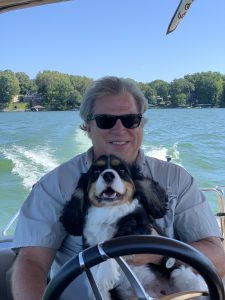 In Chris Janson's summertime anthem "Buy Me A Boat", he sings:  "I know what they say; money can't buy everything, maybe so, but it can buy me a boat."   Well Chris, maybe not during a pandemic.  As folks look for ways to beat the heat and enjoy some socially-distanced fun, boat dealers are seeing historic sales.  More than 70% of boat dealers are reporting they are completely out of inventory or extremely low.  First-time boat buyers account for a lot of the boom, which has raised concerns about safety on the water.  There is still plenty of boating season left, so if you are considering buying a boat and a truck to pull it, please forego the Yeti 110 iced down with silver bullets and read on to learn about some other key safety issues as well as liability and insurance issues.
The U.S. Coast Guard recommends safety courses for new boaters, and the State of Tennessee requires it for anyone who was born after January 1, 1989.   This is true for both boats and personal water crafts such as jet skis.   The Tennessee boating exam covers a host of important safety topics including the rules for encountering other vehicles on the water, nighttime navigation, towing a skier, carbon monoxide poisoning and more.  For instance, many beginners on a jet ski do not know that a jet ski has zero steering when it is not under power.  As a result, accidents tend to happen because the novice jet ski rider will release the gas/power when confronted with an emergency, and this prevents them from being able to steer away from or out of trouble.  Likewise, many beginning jet ski riders do not know that many jet skis do not have brakes.
And, of course, all boaters need to remember the rules about drinking and boating.  In Tennessee, if a boaters' blood alcohol level (BAC) is .08 or higher then the driver can be charged with boating under the influence.  The fine for a first time offense ranges from $2500 to $5,000 and can result in up to one year in jail.  Tennessee is an implied consent state, so by operating a boat or jet ski on the the water you have consented to a blood test for purposes of determining whether you are under the influence.  Similarly, Tennessee law imposes penalties on anyone who engage in negligent or reckless behavior while boating on the water.  For example, a boater who is driving too fast for conditions (weather/time of day/traffic congestion) could be charged with reckless driving and fined $2,500 and jailed for up to 6 months.
One last point on boating in Tennessee: under Tennessee law, a boat owner is responsible for any harm caused by their boat whether the owner is driving or even on the boat.  The goal of this law is to make sure boat owners do not negligently entrust their boat to others who should not be driving either because they have been drinking, are unlicensed or otherwise unfit.   If you buy a new boat or personal water craft such as a jet ski, be sure to discuss the proper level of insurance with your agent to both protect your assets and to protect anyone who happens to be injured as a result of your (or anyone else's) operation of the boat or jet ski.
You can find John and Joy Day on the water almost every weekend that weather permits.  We love boating and know the ins and outs of Tennessee boating law.  If you or a loved one has been injured on the water, we would be honored to help you with your case.  We provide a free consultation so you can discuss your case with us without any cost or obligation.  If we think we can help and you decide to hire us, our award-winning attorneys handle all boating cases on a contingency basis so it costs you nothing out of pocket to have our team helping you and your family.  To get started, give us a call at one of the numbers below:
Nashville: 615-669-3993
Murfreesboro: 615-867-9900
Brentwood: 615-742-4880