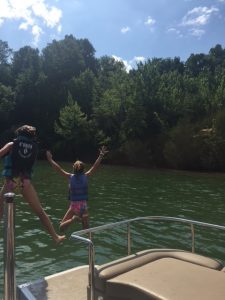 Boating season is still in full swing on Tennessee waters.  As for the Days, we wait until the very last minute to pull our boat out of the water for winter so that we can eek out as much time on the water as possible.  Unfortunately, this has been a very deadly year on Tennessee lakes and rivers.  To date, 21 people have lost their lives.  Last year at this time, the number of fatalities was 9.  According to the Tennessee Wildlife Resources Agency, there has been a noticeable uptick in deadly accidents involving small watercraft like canoes and paddle boards.  Regardless of the type of watercraft you enjoy, here are some safety reminders to help you close out the boating year safely:
Wear a lifejacket when canoeing, paddle boarding, riding jet skis, skiing, tubing, knee boarding, surfing, etc.  If you are injured while engaging in one of these activities, a life jacket will keep you afloat until help can arrive.  Tennessee law requires all children under age 12 to wear a life jacket when boating. Anyone riding a jet ski or personal watercraft must wear a lifejacket regardless of age.
Make sure the lights on your boat are working and be sure to use them between sunset and sunrise.
Carbon monoxide poisoning is a lethal hazard. Be sure your boat is turned off if anyone is relaxing on the swim platform or swimming near the back of the boat.  Be sure to use your exhaust before starting your engine.  Leave at least 20 feet of distance between the back of your boat and skiers or surfers so that they are not exposed to exhaust fumes.
Be mindful of the propeller and jet propulsion. Do not allow anyone to swim behind or near a watercraft that is underway.
Do not drink and drive. Tennessee law allows open containers on boats but drunk driving laws still apply.  The fine for the first offense is $2,5000 and up to a year in jail and the possible suspension of your boating license for 10 years.  Penalties increase after the first offense.
Teach skiers, tubers, surfers and anyone else being pulled behind a boat to raise their hand once they are down so that other boat drivers can see them more easily.
If you are a boat driver, do not follow directly behind a boat pulling a skier, surfer, tuber, etc.
Personal watercraft or jet skis are not allowed to operate at all between sunrise and sundown as they are not lighted.
If you are a boat owner, be sure to keep sufficient insurance on your vessel and know that you are responsible for any accidents with your watercraft even if you are not driving. So think before entrusting your watercraft to someone.
Put down your phone. Distracted driving is a safety hazard on a boat just like a car.
We hope everyone safely enjoys the rest of boating season.  If you have questions about a potential case, we offer a free, no-obligation consultation.  If we think we can help you and you decide to hire us, our award-winning attorneys will handle your accident case on a contingency basis so we only get paid if we recover money for you.  Call us at 615-742-4880 (Nashville) or 615-867-9900 (Murfreesboro) or 866-812-8787 (toll-free).