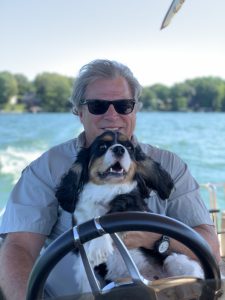 Do you know which Tennessee lake has the most boating accidents?   Do you know the most common cause of boating accidents?  Or when boating accidents are most likely to occur?  Or, how many personal watercraft accidents (Jet-Ski, Sea-Doo, etc.) there were last year? Well, the 2022 Tennessee statistics have been released by the Boating and Law Enforcement Division of the The Tennessee Wildlife Resources Agency (TWRA), and we have the answers to these questions and more including when Tennessee law requires you to report a boating accident.
First, in 2022, there were a total of 254,741 registered boats in our State, an increase of roughly 5,500 boats from 2021.   Overall, there were 134 reported accidents in 2022.  While this number is not particularly high, and is a slight decrease from 2021, it is important to remember that people do not drive boats with the same frequency as cars.  Most folks only use their boats on a nice weekend, and on a typical Saturday, many boaters only drive around for a limited portion of the day – while skiing, while taking a cruise or while getting to their favorite spot to anchor down.
So, let's drill down on these 134 accidents.  The most common type of accident was collision with another vessel, and the most common cause of accidents was careless or reckless driving. The most likely time to be involved in a boating accident is Saturday between the hours of 12 and 8 p.m.  If you spend any time on the water, this does not surprise you.  Alcohol and drug use crept slightly upwards last year and was the primary cause of 4% of boating accidents and there were 102 boating under the influence or BUI arrests.  As for injuries and deaths, 29 of the 134 boating accidents resulted in fatalities and 42 resulted in injuries.  The most dangerous lakes last year:  Percy Priest and Watts Bar each had 4 fatal accidents last year, and Chickamauga and Fort Loudon Reservoir each had 4 injury incidences.  Perhaps surprisingly, the age group most likely to be involved in a boating accident was 46 – 50 years old.
As for personal watercraft (PWC), there was a big jump in the number of accidents with 50.  In 2021, there were 29.  There was one fatal PWC crash, which was a decrease from 5 the prior year.  Again, the primary cause of jet-ski accidents was careless/reckless operation.  The 21-25 age group were the most likely to be involved in a jet ski accident.
And now two quick reminders on Tennessee boating law: if you are the operator of a boat or PWC, you must report to the TWRA any accident which involves death, a missing person, an injury which requires or should require more than just general first aid or property damage that meets or exceeds $2,000.   And remember, if you were born after January 1, 1989, you must have a boating license, which requires an exam.
At the Law Offices of John Day, not only do our lawyers know Tennessee boating law, but John and Joy Day are avid boaters and understand boating issues. For more than 20 years, they have spent as much time as they can on Tims Ford Lake where they enjoy boating, skiing, tubing, and jet-skiing.  So if you or someone you love has been injured in a boating, tubing, skiing or jet-skiing accident, give us a call to discuss your case.  We offer a free consultation so that you can understand if you have a case and your legal rights and options.  If we think you have a case and you decide to hire us, our award-winning lawyers handle all accident cases on a contingency basis so we only get paid if we recover money for you.  And, unlike some law firms, we advance all case expenses interest-free so that you are never out of pocket any money to pursue your case.  To get started, give us a call or reach out with our online contact form and we will call you.  We handle boating accident cases across the State of Tennessee from our three Middle Tennessee locations:
Nashville: 615-669-3993
Murfreesboro: 615-867-9900
Brentwood: 615-742-4880