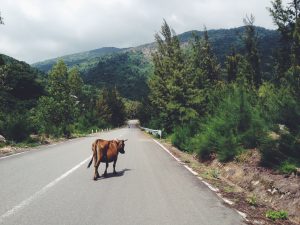 We all know that animals can cause all types of accidents including car and motorcycle accidents, bicycle accidents, trips and falls, etc. We also know that animals can be hurt or killed in accidents and by other animals. But there are so many questions from these two basic facts. For example, does auto insurance cover pet injuries? Do I have to report an accident involving an animal? If a neighbor's dog kills my dog, how much can I recover? If my dog bites someone, is it covered under my homeowner's policy. Read on for quick answers to common questions surrounding animals and accidents:
1. Does auto insurance cover hitting animals?
Whether your accident with an animal is covered by any type of insurance will depend on what type of animal you hit and what type of coverage you have on your vehicle. All sorts of animals can be hit on the roadway. Deer are the most common. In fact, 1.5 million accidents are caused each year by deer. On average, each state will have 113 fatalities and 10,000 injuries as a result of car accidents involving deer. Each year, 1 million dogs are killed by vehicles and, according to the Federal Highway Association, 15% of animal-related crashes are livestock (cows, horses, goats, etc.). So those are the animals typically involved, now let's talk about insurance.
At the Law Offices of John Day, we are experienced in handling accidents against animal owners including cows in the road. If a cow is on the roadway, the owner may be negligent because the cow is not a wild animal like a deer.  Likewise, if a loose dog causes a motorcycle rider to lose control, there may be a cause of accident against the dog owner. However, if you hit a deer, your only source of recovery for the damages is your own insurance, and please know that you will need comprehensive auto coverage in order to recoup your property damage losses. Standard liability coverage usually does not cover accidents with deer or other wildlife. As for injuries, if you have a medical payment in your auto policy, it typically will cover injuries up to the policy limits which is often $5,000. After that, medical and, perhaps, disability insurance would be necessary to help you in that situation.
2. Do I have to report an accident involving an animal?
If you accidentally run over a chipmunk, you do not need to report it. However, if you hit a deer and there is damage to your car, it is wise to report it so that law enforcement can confirm there was an accident with a deer for purposes of insurance. Likewise, if the dead deer is still in the road, it can present a hazard to other drivers so it should be reported to Tennessee Wildlife Resources Agency so that it can be properly removed from the roadway.
3. If a neighbor's dog kills my cat or dog, how much can I recover?
Tennessee Code Annotated 44-17-403 provides that if a cat or dog is killed "by the unlawful and intentional, or negligent, act of another or the animal of another",  a judge or jury can award up to $5,000 in non-economic damages i.e., the loss of companionship and love of the pet. If the death was not intentional (i.e., the neighbor commands his dog to attack the cat or dog) but instead merely negligent (i.e., the owner forgot to close the gate and his dog got out and attacked), "the death or fatal injury must occur on the property of the deceased pet's owner or caretaker, or while under the control and supervision of the deceased pet's owner or caretaker" (such as on a leash).   Additional provisions are made for guide dogs, and this provision does not affect the owner's legal rights for physical or emotional injuries he or she sustains as a result of the attack.
4. Should I restrain my pet when riding in the car?
Eighty percent of pet owners do not restrain their dogs when they are in a car, but there are several reasons why they should.  First, a loose dog in the car can easily be a distraction to a driver.  Second, even if all your dog does in the car is sleep, it can still be a heavy projectile which could hurt you or other occupants in the event of a crash. Third, your dog can be injured in the crash. Whether or not your auto policy covers injuries to your pet in the event of a crash will depend upon the language of your policy. Several car insurance companies offer this type of insurance at no additional cost but the customary cap is $1,000. If your current auto policy does not cover it, you may be able to pay for a special endorsement or you can purchase separate insurance policy.
5. Does homeowner's insurance cover dog bites and attacks or other injuries caused by dog?
The short answer is: usually. As always, the language of the insurance policy will control. Some bully breeds of dogs (Pit Bulls, German Shepherds, etc.) can be specifically excluded because of their propensity for biting and aggression.   Our experienced attorneys have handled all types of cases involving dogs – from dog bites and attacks to broken bones caused by dogs jumping and knocking people over.  If you have a question about a potential case, just give us a call.
This was a long post, and we only scratched the surface of the legal issues surrounding accidents and animals, so if you have been injured by any type of animal and have questions about whether you have a case, give us a call. For free and without obligation, we will discuss your case with you and let you know your legal rights and if our award-winning lawyers can help.
Nashville: 615-669-3993
Brentwood: 615-742-4880
Murfreesboro: 615-867-9900
Toll-Free: 866-812-8787