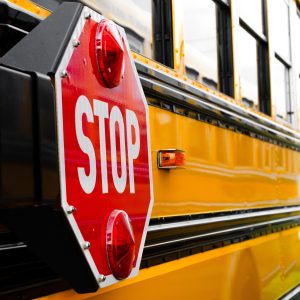 Public schools in Middle Tennessee have been in session for a couple of weeks now.  And, as of last week, Middle Tennessee private schools are back in session, so every weekday morning and afternoon there are going to be more pedestrians, bicyclists and school buses on our roadways.  Now is a great time to refresh ourselves on school zone safety and the penalties for violations of school zone rules.  This is especially true since in 2021 the number of pedestrians killed rose by 13% and the number of bicyclists who were killed increased by 5%.
As an initial point, school zone laws apply to everyone.  They apply to motorists passing through the school zone on their way to work or somewhere else AND they also apply to parents dropping off students, buses dropping off students and to students who are old enough to drive themselves.  Now, let's review the basics.
Slow down and adhere to the speed limit of the school zone.  Obviously, the failure to do so could result in a speeding ticket but it also could result in a reckless driving charge. Reckless driving is a Class B misdemeanor punishable by 6 months in jail and $500 fine.  It will also result in 6 points being added to your license.
Put your phone down. If you are distracted, you are less likely to see and be able to react to a pedestrian, a bicyclist or even another car.  If you are under 18 years of age and are caught operating a vehicle while holding a cellphone, it is 6 points on your license and, almost certainly, a stiff increase in your auto insurance.
Respect school buses. When the lights are activated, all vehicles must stop unless you are on a divided highway.  On a divided highway, only the vehicles traveling in the same direction as the bus must stop.  Failure to stop for a school bus with its lights activated adds a whopping 8 points to your license.
Respect pedestrians and bicyclists. Did you know that in a school zone you must wait for a pedestrian to completely cross the road and not just your lane of travel before proceeding?  Did you know that, under Tennessee law, you must leave 3 feet of clearance between your vehicle and a bicyclist when passing?
For parents of teenage drivers, set and enforce driving safety rules. For example, no putting on make-up while driving.   No leaving late for school as it makes speeding more likely.  No holding a cell phone while driving (This has been Tennessee law since July of 2019)
Report bad driving when you see it. For example, if the majority of drivers are simply ignoring the school zone speed limit and driving dangerously, ask for law enforcement to increase enforcement.  If a bus driver is not obeying speed limits or stop signs, notify the school.
Be vigilant. Remember that children can be unpredictable.  If they forget something on the bus, they may dart back into traffic to retrieve it.  At a bus stop, they may be playing with other children and step off the curb.
Remember that if your child is a pedestrian or a bicyclist, and they are hit by a car,  you may have a claim against the driver of the vehicle and you may also be able to recover under your own auto insurance policy.  Our experienced lawyers are happy to review your policy to determine if it does cover such an accident.
We hope everyone has a safe and wonderful school year.  If you should need us, our award-winning lawyers are available to help you and your family.  We handle all accident cases on a contingency basis so we only get paid if we recover money for you.  To find out if you have a case, just give us a call for a free, no-obligation consultation.
Nashville: 615-669-3993
Murfreesboro: 615-867-9900
Brentwood: 615-742-4880
Toll-Free: 866-812-8787