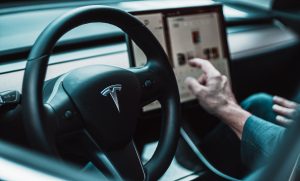 Self-driving cars are not really "self-driving."  Instead, manufacturers warn drivers of autonomous vehicles that they must remain in control of the vehicle.  For instance, Tesla states: "keep your hands on the steering wheel at all times" and to always "maintain control and responsibility for your vehicle."  ProPILOT (Nissan/Infiniti) and SuperCruise (GM) focus on the fact that those programs are an assistance feature and not a substitute for a human driver.   And yet, a recent study by the Insurance Institute for Highway Safety (IIHS) found that 53% of SuperCruise, 42% of Autopilot (Tesla) and 12% of ProPILOT said they were "comfortable treating their vehicles as fully self-driving".  Perhaps not surprisingly, in the event of an accident, drivers using a self-driving vehicle could face legal trouble – both criminal and civil.  If you have a self-driving vehicle or you have been injured in an accident with one, read on for the latest.
The world of self-driving cars has been tumultuous, and enthusiasm may be waning. Earlier this year, a study found that consumers are less excited for self-driving cars.  Moreover, last month, Argo AI, a tech company to which Ford and Volkswagen provided multi-billion-dollar investments related to self-driving vehicles, declared that it would be shutting down.  Tesla is currently facing a Department of Justice criminal probe concerning marketing statements it has made about their vehicles' capabilities.  Across the country, lawsuits have been filed related to car accidents involving self-driving vehicles.  In fact, in California this month, trial is set to begin in a manslaughter case filed against Kevin George Aziz Riad, who was using Tesla's Autopilot and was involved in a fatal crash.   Riad had activated Autopilot, but ran a redlight and crashed into another vehicle killing a couple out on their first date.
In Tennessee, if you have been injured in an accident involving a self-driving or autonomous car, you could have many different types of claims.  First, you could have a claim against the human driver of the other car.  This would be a claim for general negligence.   Second, you could have a different type of claim known as a "product liability claim" against the manufacturer or a component supplier of the self-driving car if the vehicle was defective in some manner.  Third, if the self-driving or autonomous car had been repaired at a facility and the repair was not done properly and that contributed to the accident then you could have a negligence claim against the repair shop.  Another claim that might be possible depending upon the facts is a claim against a construction or roadway company.  For example, if the accident happened in a construction area and was caused by confusing signage then you could have claim against the construction company.
Because this area of the law continues to develop alongside the technology, it is crucially important you hire an experienced lawyer to help you.  At the Law Offices of John Day, our award-winning lawyers are here to help.  John Day testified in the Tennessee Legislature about the legal aspects of self-driving cars so our firm understands the issues.  To better your legal rights and options, give us a call.  We offer a free, no-obligation consultation and we handle all car accident cases on a contingency basis so we only get paid if we recover money for you.