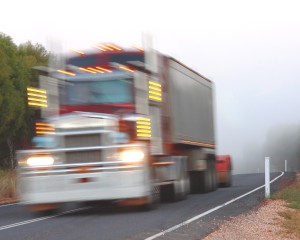 Currently, the Trump Administration is working to relax trucking regulations.   Yet, trucking accidents have increased 40% since 2009.   According to the most recent data, 4,136 people lose their lives each year in trucking accidents (trucking accidents includes semis and other large commercial vehicles), and another 87,000 are injured.  Do you know when and where you are most likely to have an accident with a truck driver?  Read on for these and other important information about deadly trucking accidents.
First, let's review the most likely actions or inactions by truck drivers that lead to a trucking accident. Nearly 25% of all truck accidents are attributable to speed.  Large trucks require approximately 20 to 40% more space to come to a stop.  The weight of their load, the condition of the truck's brakes and the condition of the roads (wet or dry) all play a part in the truck's stopping distance.  In addition, reaction time plays a huge role, and it can be affected by fatigue, drugs, attentiveness (distracted driving), etc.  Drugs, including prescription, over-the-counter and illegal substances, account for 46% of all fatal trucking accidents.  Driver fatigue is responsible for 13% of fatal truck accidents.  Currently, drivers cannot drive more than 11 hours without legally required rest breaks, although as stated above, the current administration has proposed new rules which would allow truck drivers to drive longer.  Alcohol is involved in 8% of all fatal truck accidents.
Now, here are some other important facts about your risk as it relates to a truck accident:
50% of truck accidents occur between 6 a.m. and 3:00 p.m. – compared to only 30% for accidents that do not involve large trucks.   So the morning commute to work is probably the most dangerous time of day for most of us.
When it comes to being involved in a truck accident, weekdays are more dangerous than weekends. On the weekends, the percentage goes down to 16% compared to 34% for non-large trucks.
The most dangerous place for a fatal truck accident is a major road or highways. These types of roadways account for 52% of fatal truck accidents.  The second most dangerous place is the interstate with 33%, and minor roads account for 14% of fatal truck accidents.
For truck accidents, 16% of the fatalities were the truck drivers themselves, 67% were the occupants of the other vehicle (car or truck) and 15% were motorcyclists, bicyclists and pedestrians. These numbers are really not surprising given the size disparity between large trucks and semis versus others on the roadway.
The most deadly type of accident with trucks is the head-on collision, which accounts for 31% of the fatal accidents. Thereafter, the two most dangerous are side impacts with 24% and accidents in which a car or truck rear-ends the truck with 23%.
If you or a loved one has been involved in an accident with a large truck or semi, you need to seek immediate legal help.  In serious accidents, the trucking company will quickly have investigators, and sometimes lawyers, at the scene of the crash.  As time goes by, important evidence can be lost including dash cam videos, black box data, scene evidence including skid or yaw marks, driver log books, etc.  At the Law Offices of John Day, our award-winning lawyers have been handling trucking cases for over 40 years.  We handle all trucking cases on a contingency basis and we only get paid if we recover money for you and your family.  We have three convenient office locations or we can come to you.  Call us today at any of the numbers below and get a free consultation with our attorneys to determine if you have a case and how we can help.
Nashville: 615-669-3993
Murfreesboro: 615-867-9900
Brentwood: 615-742-4880
Toll-Free: 866-812-8787