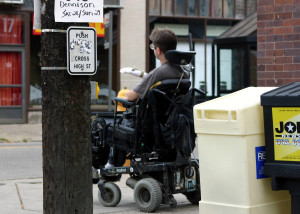 Being a pedestrian is dangerous. Each year in the United States roughly 5,000 people are killed in pedestrian accidents and another 76,000 are injured.  But recent data shows the risk to pedestrians using wheelchairs is even more profound as those individuals are 36% more likely to die in an accident with a vehicle. The majority of these crashes occur while the wheelchair user is properly within the crosswalk, and about 18% of the crashes occur where no crosswalk was available.  Why is this happening? Researchers believe several factors are to blame for the disproportionate risk faced by pedestrians using wheelchairs.  First, wheelchair users are lower to the ground than pedestrians on foot so drivers often fail to notice them.  Second, when a collision does occur, the wheelchair user is typically struck more squarely again because they are lower to the ground.  Third, some folks who use wheelchairs already have some level of compromised health making it harder for them to recover from collision trauma.  Fourth, wheelchair users are often unable to react as quickly and nimbly as someone on foot and avoid a collision with a negligent driver.
As drivers, we must be more diligent in watching for pedestrians.  Incredibly, in about 78 % of the wheelchair pedestrian collisions, there was no evidence to suggest the driver took evasive action i.e., swerved, braked, etc.  Of course, the natural inference from this is the drivers never even saw the wheelchair user prior to impact.  Today's drivers are more distracted than ever.  Texting, GPS systems, eating while driving, talking on the phone while driving and the like all prevent a driver from giving their full time and attention to the road.  Other conduct such as speeding, failing to obey traffic controls, driving drunk or driving while overly tired also make it more likely that a driver will fail to notice a pedestrian in their path and react in time.
At The Law Offices of John Day, P.C., our award-winning lawyers have handled pedestrian accident and pedestrian death cases so we know the devastation they can bring to the victim and the victim's family.  If you would like to discuss a pedestrian accident case, we offer a free consultation in which we will review your case with you, answer your questions, advise you of your legal options and rights and let you know if we think you have a case.  If we think we can help you and you decide to hire us, we handle all injury and death cases on a contingency basis.  And, because we advance all case expenses, you are never out pocket any money to pursue your case.  For more information on how we handle fees and expenses, click here.  We have helped our satisfied clients recover millions of dollars and we would like to help you and your family too.
To get started, simply give us a call at 615-742-4880 (Nashville) or 615-867-9900 (Murfreesboro) or 866-812-8787 (toll-free).  But, please do not delay.  The law only allows you a limited time to pursue your rights.