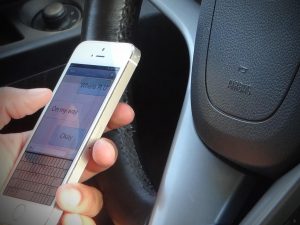 The National Highway Traffic Safety Administration has introduced new guidelines to combat driver distraction and hopefully reduce car accidents.  The guidelines seek to prompt manufacturers to develop products that will reduce the risk of car crashes caused by distracted driving by either using a simplified driver interface which limits the time a driver's eyes are averted from the road or by pairing a mobile device to the vehicle's infotainment system.  Currently, the NHTSA's proposals are voluntary but they are a step in the right direction especially since we continue to see car crashes like the ones below that show just how out of control distracted driving is becoming.
For instance, Onasi Olio Rojas, age 20, was live-streaming his driving antics when he crashed into a garbage truck. The video, which can be seen on a number of news sites as well as YouTube, is truly a "what not to do" of driving.  Rojas was speeding.  At the time of the crash, his estimated speed was 90 mph, but at several points in the video his speed was well above 100 mph.  Rojas was driving erratically.  The video shows Rojas recklessly weaving in and out of traffic and even using the break-down lane to pass other vehicles.  Rojas was distracted.  In the footage, Rojas mugs for the camera, shows his speedometer and the roadway in front of him.  Rojas was not wearing his seatbelt.  Seatbelts are the best way to save lives and injuries, but Rojas did not buckle up which is especially reckless when you consider the way he was driving.
Unfortunately, Mr. Rojas is not alone. In Florida, Pablo Cortes III was driving 115 mph while his passenger used Snapchat to video their antics.  A filter on the app actually indicates the driver's speed.  Cortes crossed the centerline and crashed head-on into a minivan killing the driver, two children (ages 9 and 10) and seriously injuring three other people.  Mr. Cortes and his passenger were also killed in the crash.
In Georgia, Christal McGhee crashed into another car while trying to take a selfie while driving at a speed in excess of 100 mph. Incredibly, once emergency responders removed her from the vehicle, she took another selfie showing her bloody and laying on stretcher and she captioned it: "Lucky to be alive." The other driver was not so lucky.  He has permanent brain damage.
With people like this on the road, what can you do? Here are a few tips:
First and foremost, if you are driving, put your phone away.
Wear your seatbelt. If you are involved in an accident, you are significantly more likely to survive it with and your injuries will almost certainly be reduced.
If you are a passenger in a car and the driver is using his or her phone while driving, speak up. Tell them the photo, text or whatever can wait. Or, offer to send the text for them or find the song they are looking for on their phone.   Be an advocate for your own safety.
Report reckless drivers. Call 911 or the THP (*847) and be prepared to give them the location, make, model and tag number if possible. You can report anonymously.
If the reckless or aggressive driver is a commercial driver, report them to their company. Again, this is best accomplished by noting the tag number and the location.
If you or a loved one has been injured in a car crash and would like a free case analysis, just give us a call at 615-742-4880 (Brentwood) or 615-867-9900 (Murfeesboro) or 866-812-8787 (toll-free).  One of our award-winning lawyers will be happy to review your case, answer your questions and advise you of your legal options.  If we think we can help and you decide to hire us, we handle all car accident cases on a contingency basis, which means we only get paid if we win.