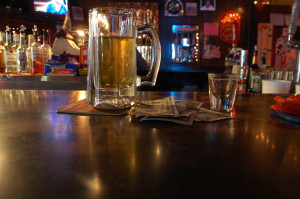 Driver Alcohol Detection System for Safety (DADSS) will prevent a car from moving if the driver has a blood alcohol concentration at or in excess of .08, which is the legal limit in all 50 states.   The technology is available in two forms: breath analysis and touch analysis.   With breath analysis, the driver simply exhales normally into the device for an instantaneous measurement. And for those with a germ phobia, you do not have to actually touch your mouth to anything.  The system is contact- free.  The touch system measures BAC under the skin's surface via the use of an infrared light at the fingertip.  So when will it be available and where?
The NHTSA projects that within 5 years the technology will be ready for installation into new vehicles. DADSS will be a vehicle option just like lane deviation programs, electronic stability control, automatic braking, etc. The technology can be customized so that parents can rest assured their teens and young adults are not drinking and driving.
In Tennessee, according to the Department of Safety and Homeland Security, there were 6,634 alcohol-related crashes in 2014.   Here are the numbers for some of the larger Tennessee counties:
Davidson — 770
Hamilton — 348
Knox — 409
Madison — 111
Montgomery — 246
Putnam – 93
Robertson — 97
Rutherford — 371
Shelby — 651
Sumner — 131
Washington — 113
Williamson — 181
Wilson – 122
Notably, these numbers do not include parking lot accidents, private property crashes or crashes with less than $400 damage.
If you or a loved one has been injured by a drunk driver, you should know that you may have more claims than just one against the drunk driver. If the drunk driver was illegally over-served alcohol, then the bar, restaurant or club may be liable. For more information on liquor liability or dram shop claims, click here. If the drunk driver does not have adequate insurance, then you may have a claim against your own insurance carrier for under-insured or uninsured motorist benefits.
So if you would like to discuss your accident with one of our top-rated attorneys in a free, no-obligation meeting, then simply give us a call at 615-742-4880 (Nashville) or 615-867-9900 (Murfreesboro) or 866-812-8787 (toll-free). Or if you prefer, contact us online. If you are unable to come to our office, we will gladly come to you. We handle all accident cases on a contingency fee arrangement so you only get paid if we win. We have recovered millions of dollars for our satisfied clients, and we would be privileged to help you too. But call us today, the law only allows you a limited time to pursue your legal rights.