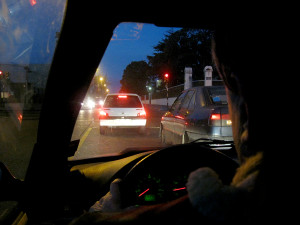 More than 1/3 of Americans have reported following asleep at the wheel, and drowsy driving causes roughly 100,000 accidents each year, claims roughly 1,500 lives and results in 71,000 injuries.  In fact, driving while sleepy can impair your performance as much as alcohol.
While drowsy driving can affect anyone, some folks are more at risk than others and include:
Travelers who may be jet-lagged;
Drivers who suffer with untreated sleep apnea or other sleep disorders;
Commercial drivers who are on the road for long periods of time;
Folks who work night shift;
Young drivers with males under 26 being at particular risk;
Parents with young children at home.
Because we know drowsy driving is a problem, there are laws which mandate commercial drivers have dedicated rest time but, as with all laws, enforcement is a problem. (Some truck drivers will manipulate their time and falsify their logs to make it appear they have complied with rest requirements). Enforcement against regular, everyday drivers is even more difficult because, unlike drunk driving and the Breathalyzer, there is not an objective test for sleep deprivation. So, it is really up to each one of us to ensure we are awake and alert behind the wheel. Here are 5 tips to help you get to your destination safely:
Get enough sleep. Obvious, yes, but for most people it really does boil down to that. In addition to helping make you a better driver, adequate sleep is essential for good mental and physical health.
If you are constantly fatigued, seek answers with your doctors. You may have sleep apnea. You may be low on Vitamin B12 or D.   But most medical causes of fatigue can be addressed once diagnosed.
If you feel yourself getting sleepy behind the wheel, pull over and get some physical exercise, which will help stimulate your senses.   Do some jumping jacks or take a quick walk.
For a short term fix, caffeine may be the difference between falling asleep at the wheel and making it to your destination safely. Pull over and get a latte, a Red Bull, a Diet Coke, whatever.
If you have passengers, let them take the wheel for a while and get some shut-eye.
At The Law Offices of John Day, P.C., we see the consequences of preventable accidents everyday. Our clients have physical, emotional and financial burdens, so it is our job to relieve them of the legal burdens. Our award-winning lawyers offer a free initial consultation in which we will review your case, answer your questions and explain your legal options. If we think we can help you and you decide to hire us, we handle all accident cases on a contingency basis so we only get paid if we recover money for you. So give us a call at 615-742-4880 (Brentwood) or 615-867-9900 (Murfreesboro) or 866-812-8787 (toll-free).