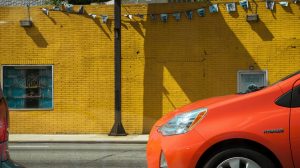 A new Federal Motor Vehicle Safety Standards is expected to save 2,400 pedestrian injuries per year.   Under the new standard, motor vehicle manufacturers have until September 1, 2019 to equip their hybrid and electric vehicles with a system that emits an audible noise under certain conditions to help alert pedestrians to the vehicle's presence. Specifically, Federal Motor Vehicle Safety Standard 141 will require both electric and hybrid vehicles with four wheels and a gross vehicle weight rating of 10,000 lbs or less to make an audible noise when traveling in either forward or reverse at speeds up to 19 mph or 30 kilometers. 
Currently, pedestrians often do not hear a hybrid or electric vehicle until it is too late to avoid a collision. This is especially true for pedestrians who are hearing or vision impaired. The audible noise at lower speeds will provide an extra cue for pedestrians that a vehicle is near.   Experts believe the noise is not necessary at higher speeds because tire noise, wind noise and other factors reduce the risk to pedestrians.
A safety standard of this type has been proposed for a long time. The National Federation of the Blind urged a noise requirement back in 2003. Originally, manufacturers' compliance deadline for the sound feature was set for September, 2018 but was later pushed back to the current deadline of September, 2019. Better late than never. Just ask Dwight Schrute.
At The Law Offices of John Day, P.C., we have seen the terrible tragedies that occur when a person is hit by a car or other motor vehicle and we applaud the National Highway Traffic Safety Administration's efforts to improve pedestrian safety.   For more information on pedestrian accident cases in Tennessee, go to www.johndaylegal.com/pedestrian-accidents. There you will find more information on the causes of pedestrian accidents, the legal rights and responsibilities of drivers and pedestrians, the local ordinances for a number of Middle Tennessee counties and more.
Finally, as always, if you or a loved one has been hit by a car or other motor vehicle and would like a completely free and confidential case analysis by one of our award-winning lawyers, all you have to do is call our offices at 615-742-4880 (Nashville) or 615-867-9900 (Murfreesboro) or 866-812-8787 (toll-free). Or, if you prefer, we will call you if you simply fill out this contact form. Either way you reach out to us, we will review the facts of your case, answer your questions and explain your legal options. If we think we can help you, and you decide to hire us, we will handle your case on a contingency basis which means we only get paid if we win, so you have nothing to lose by pursuing your legal rights. Call us today and let us see if we can help.