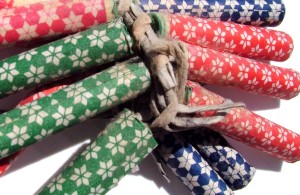 The 4th of July is almost here. Cookouts, parades and fireworks are iconic activities for the holiday weekend. My idea of a perfect 4th of July is throwing something on the grill, hanging out with family and friends then watching the fireworks on the lake in our boat.
But for many others especially kids, the holiday is not complete without shooting off some fireworks. So many folks will pick up sparklers, firecrackers, roman candles, bottle rocket, smoke bombs and the like. But even these seemingly innocuous fireworks can cause serious injury if proper safety rules are not followed. For instance, did you know that sparklers can generate heat up to 2000 degrees or the equivalent of a blow torch or hot charcoal in a grill. In fact, sparklers cause 25% of all fireworks-related burns. Bottle rockets and small firecrackers sent a whopping 8,600 people to the emergency room in 2010. More fires are reported on the 4th of July than any other day of the year, and the spike is attributed to fireworks.
Below are some tips for keeping your family and friends safe while shooting off fireworks this holiday:
Read the labels of the fireworks before igniting them.
Adults should always closely supervise children using fireworks.
Do not purchase fireworks in plain brown paper as this is often a sign they are designed for professional fireworks displays only.
Never shoot a firework at someone.
Do not use fireworks in dry, parched areas that might ignite.
Have a fire extinguisher, bucket of water or water hose ready to extinguish any fires.
If a firework fails to go off, do not try to re-light it. Instead, saturate it with water and dispose of it.
Once you light a firework, move away quickly to a safe distance.
Wear safety glasses when lighting fireworks.
Know the laws in your area regarding fireworks. The laws can be quite different from city to city even in the same county. For instance, in Williamson County, fireworks are not allowed at all in Franklin but Nolensville allows fireworks to be used until 11:00 p.m. And, please be respectful. Even if your town does not have a curfew for fireworks, do not shoot fireworks off until all hours of the night.
If you or a loved one has been hurt in an accident and would like to discuss your case and your legal options, call one of our award-winning lawyers at the 615-742-4880 (Nashville) or 615-867-9900 (Murfreesboro) or 866-812-8787 (toll-free). We will be happy to review your case and explain your legal rights for absolutely free. And because we handle all accident cases on a contingency basis, we only get paid if we recover money for you. We have recovered millions of dollars for our satisfied clients and we would like to help you too. Call us today!