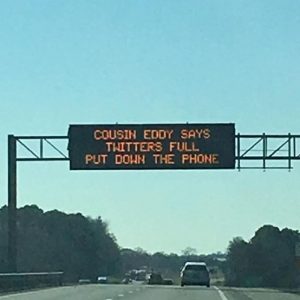 Have you heard the song "Driving Home for Christmas" by Chris Rea?  I had never heard it until this year, but it actually has some great advice for driving home for Christmas and so do we.  There are not many more days before the holiday so get ready now to make the drive safely.  Here are our top 10 tips:
Before heading out, make sure your car is ready for the drive. For example, do your tires have adequate air pressure.  With the cold snap last week in middle Tennessee, all four tires in my car had low pressure.  Fortunately, many cars have a sensor to tell you when you have low pressure.  But if your car does not have this feature, swing in to the gas station and double-check tire pressure.  Even if your air pressure is good, get other key components checked out like brakes, windshield wipers, headlights, windshield wiper fluid, etc.
In his song, Chris is driving home for Christmas and while he "can't wait to see those faces", he knows "it's gonna take some time, but I'll get there". This is great advice.  You will get there, so go ahead and leave a little early then settle in at the speed limit, stay off the bumper of the car in front of you and relax.  Follow Chris' advice and sing to pass the time.  Sirius XM has the Holly station with non-stop Christmas classics that can help set a festive mood and keep you calm on the drive.
Put your phone down. Earlier this year, it became illegal in Tennessee for a driver to hold their phone for any reason while driving.   No texting, no talking (except via Bluetooth), no fussing with the navigational app, etc.  Remember the advice in the picture above: Twitter's full.  Put down the phone.
If you have enjoyed too much eggnog or any other alcoholic beverage, let someone else take the wheel.
Being courteous to other drivers helps curb aggressive driving. For instance, move over instead of riding in the fast lane.  Use your turn signal.   There will be lots of out of town drivers who are not familiar with our roads and may just need a little extra time.
If you are on a long road trip, take regular breaks so that you remain alert. If you can, share the driving duties with someone else in the car.
If you do get in an accident, make sure you know what to do. Here is a checklist that we recommend printing and putting in your glove box along with your registration and insurance.
Speaking of insurance, please make sure your insurance is adequate for you and your family. To protect against uninsured and underinsured drivers, make sure you have sufficient UIM/UM insurance.  For more on that issue, click here and here.
Make sure everyone in the vehicle is properly restrained. Seatbelts provide critical protection in an accident.
Don't be a Sparky. Christmas Vacation is still one of our favorite movies of all time.  Here is last year's post about driving lessons from Chevy Chase.
We hope everyone has a safe drive to their holiday destination this year.  If you need us, we will be here.  Just give us a call at one of the numbers below.
Nashville: 615-669-3993
Murfreesboro: 615-867-9900
Brentwood:  615-742-4880
Toll-Free: 866-812-8787