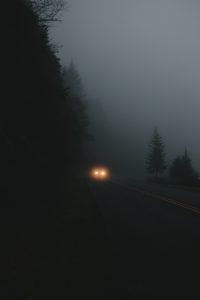 No, this post is not about the classic Christmas carol.  It is about headlights and pedestrians.  While it may not be the most Christmas-y and exciting stuff, it is very important stuff because half of all fatal accidents occur at night, and one-quarter of them occur on unlit roads.  And Tennessee is unfortunately following a nationwide trend of increasing pedestrian accidents.  One significant factor in nighttime car and pedestrian accidents is headlight performance.  So do you know how your vehicle's headlights rate?
Evaluation of headlights is a part of the Insurance Institute for Highway Safety (IIHS) rating for vehicles.  As part of their testing, IIHS engineers test the strength of a vehicle's headlights(by measuring how far the headlights project in both the high and low beam settings).   This is measured both when the vehicle is going straight and when the vehicle is rounding curves.  And, of course, headlights should not be so bright they create an unacceptable level of glare for oncoming drivers as that creates a hazard too.
In the most recent testing, the IIHS reached the following conclusions:
Only 15 vehicles qualified for the 2018 Top Safety Pick Plus award
A large number of vehicles are manufactured with their headlights "poorly aimed". Thus, reducing visibility for the driver and creating more glare for oncoming drivers.
23 of 37 ranked as marginal and poor.
Only 4 models out of 100 earned a good rating.
40 models were rated as poor.
These are not encouraging statistics and they transcend all types of cars: domestic and foreign and luxury and economy.  To see how your vehicle performed on the IIHS testing, click here. Part of the issue is the type of headlight being used by manufacturers.  LED lights tend to be brighter and project farther but halogen head lights are better at minimizing glare.
As for pedestrians, remember the ability to see an object or person depends on three things: (1) the strength of the light or, stated differently, how far it projects; (2) the direction of the light i.e. headlights will not help you see things behind you; (3) the amount of light reflected back.  While pedestrians cannot do anything about numbers (1) and (2), they can do something about (3).  Black does not reflect light nearly as much as white.  Reflective vests or other reflective gear are better at bouncing back light than just a plain white shirt.  So when you can, wear reflective gear if you are going to be out walking, or jogging at night to try and help improve your visibility.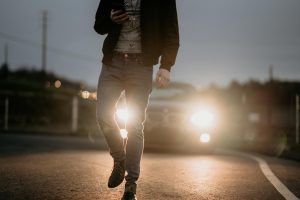 At the Law Offices of John Day, our award-winning attorneys have helped car accident and pedestrian accident victims for decades, and we would be privileged to help you too.  We offer a free initial consultation.  If we think we can help you and you decide to hire us, we handle all accident cases on a contingency basis, which means we only get paid if we recover money for you.  If you would like to know if you have a case, please give us a call at 615-742-4880 (Brentwood) or 615-669-3993 (Nashville) or 615-867-9900 (Murfreesboro) or 866-812-8787 (toll-free).