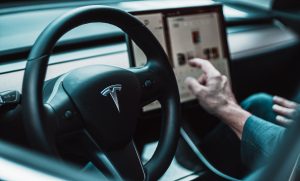 Since 2018, federal law requires all new American cars to have at least one camera: a rearview camera.  Many vehicles have multiple cameras that will record even when the vehicle is off, and  some vehicles have cameras that monitor the driver's face.  Car cameras have lots of benefits but they also raise some interesting questions for car accident cases and beyond.
The images that car cameras capture can be downloaded.  For instance, In a Tesla Model 3, using a feature that Tesla has named Sentry Mode, the owner can easily insert a memory stick next to the cup holder and download the recordings, which are activated any time an object comes too close to the vehicle.  For instance, a Washington Post reporter who owns a Tesla was recently the victim of a hit-and-run while his car was parked.  After the impact, his Tesla vehicle sent an alert to him.  The car had recorded the impact from four different angles, which clearly showed the Tesla had been side-swiped by a city bus.  The Tesla owner was able to take the footage, which showed the driver's face immediately prior to impact and the license plate number after impact, to the city and immediately get compensation for the repairs.
Tesla is not alone in providing this feature.  Chevrolet offers Valet Mode which alerts you to badly-behaving valets.  General Motors, Volvo and BMW have cameras that scan the drivers face to help prevent distracted, drowsy and even drunk drivers. Some Cadillac vehicles are equipped with Driver Attention Monitoring that works in conjunction with Super Cruise.  If the driver takes his or her eyes off the road for too long, the car starts to issue alerts and warnings.  If the inattentiveness continues, the warnings and alerts escalate and finally culminate in the vehicle pulling itself to the side of the road.  The camera uses infrared LEDs so it can see your eyes at night and if you are wearing sunglasses.
But here are some important questions about this technology:
Do these cameras make your car more vulnerable to hacking in the same way that doorbell cameras have been?
Could these cameras be used to monitor teen drivers?
If the cameras and system detect reckless driving, should it notify police?
Can the police download the footage?  Does the owner have to consent?  Or will a court order be necessary?
Will insurance companies offer discounts for these types of systems? General Motors already has contracted with insurance companies for discounts in exchange for an owner's driving data.
Does the right to privacy override the benefits of all these cameras?
 Should buyers be fully informed of how all of this footage is being used and who is receiving it?
 Should owner's be allowed to opt out of the technology?
These cameras could play an important role in some car accident cases, which is why it is critical you hire an experienced lawyer.  Our award-winning attorneys have been handling car accident cases for 40 years, and we would be honored to help you too.  We handle all injury and death cases on a contingency basis, so we only get paid if we recover money for you and your family.  To see if you have a case, simply give us a call for a free, confidential consultation.  If you are unable to come to us, we will gladly come to you.  Call us at any of the numbers below to get started:
Nashville: 615-669-3993 
Brentwood: 615-742-4880
Murfreesboro: 615-867-9900
Toll-Free: 866-812-8787 
Photo by David von Diemar on Unsplash