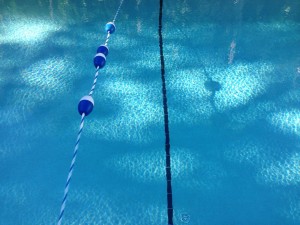 Mercy, it is hot.  The heat index in Middle Tennessee is 105 and other parts of the State are under a heat advisory.  A natural place to cool off is the pool.  But let me tell you a scary story to remind you of the importance of pool safety.
One Saturday, when our daughter Kate was a toddler, I was making banana pudding and Kate was in the kitchen with me.  After she wandered out of the kitchen, I noticed the quiet, which is always a red flag for parents of toddlers. I washed my hands and went to look for her.  I went to the sunroom and the door to the pool was open.  My heart stopped and I could not breathe.  I raced to the door and blessedly found Kate sitting on the edge of the pool splashing the water with her feet – oblivious to the danger.  Someone had left the sunroom door open and she had ventured out.  It happened so quickly.  Thankfully, Kate was fine.  Even though she had successfully completed a water survival class, that scene is etched in my mind and it is still upsetting to think of what could have happened.  After that, we made some changes to improve water safety at our house.  Here are some tips that you should consider if you own a pool or regularly visit one:
If you have children in the house, put an alarm on exterior doors that access the pool so that an audible chime or beep occurs when the door is opened. We had this on our sunroom door but it had been opened a period of time before Kate left the kitchen and went to the sunroom, which brings me to the next couple of tips.
Remind older kids and other family members of the importance of securing gates and doors that provide access to pools.
Put an alarm on your pool that sounds an alarm when a human or animal falls into the pool.
Make sure your pool is adequately fenced and gated. Openings should not be big enough that a small child can squeeze through.
Keep proper safety equipment near the pool such as ring buoys, shepherd hooks, etc.
Be mindful of water clarity. Pool water should be clear enough that you can see the drain.  If the water is murky, it can hinder rescue.
Speaking of drains, be sure drains comply with the Virginia Graeme Baker Act. The Act requires drains that prevent the hazards of entrapment and eviscerations in pools and spas.  It has been a federal law since 2008.
Have your pool checked regularly by a licensed electrician to ensure there are no electrocution hazards.
Make sure the depth of the water is clearly marked so that swimmers know where it is safe to dive.
If you are swimming or tasked with monitoring children who are swimming, avoid alcohol or other substances that could impair your reaction time and or judgment.
Drowning is the second leading cause of death for children under age 15.  And near-drowning accidents can irrevocably change the course of a young life.  At the Law Offices of John Day, we have handled child drowning cases involving negligent lifeguards, poor gating and others.  These cases are heart-breaking and it is important to hold those responsible accountable so that not only can a devastated family receive compensation for the harm caused to them but also so that future deaths can be prevented.  If you would like a free consultation about your case, give us a call at any of the numbers below.  Our award-winning attorneys handle all accident cases on a contingency basis.  And, as always, we will gladly come to you if you are unable to come to us for any reason.
Nashville: 615-669-3993
Murfreesboro: 615-867-9900
Brentwood: 615-742-4880
Toll-Free: 866-812-8787