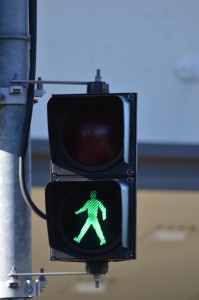 At The Law Offices of John Day, P.C., we are definitely seeing more accidents involving pedestrians but we are not relying on just our own anecdotal evidence for this post.  The Governors Highway Safety Association (GHSA) is projecting, once all the data is in, that 2015 will have the largest year-to-year increase in pedestrian fatalities since national records have been kept. Pedestrians now account for about 15% of all motor vehicle crash-related deaths.   So what is to blame for the national increase and what are the statistics for pedestrian accidents in Middle Tennessee?
First, the GHSA believes the growing use of cell phones is a large part of the problem. Drivers are more distracted than ever by texting, taking selfies while driving (yes, that is a thing), looking up directions on their phones, etc.  And, second, there are simply more pedestrians. More folks have decided to walk for health, environmental and economic reasons.   And while there are more pedestrians on the roadway, not all cities and communities have sidewalks and marked crosswalks. In addition, some cities and communities have not made education and enforcement a priority. For more information on the rights and responsibilities of drivers and pedestrians under Tennessee law, simply click here.
As for Tennessee, we are unfortunately following the national trend with an increase in the number of pedestrian accidents. Last year, there were 1,578 pedestrian accidents in our State. In 2014, there were 1,404 pedestrian accidents in Tennessee. And 10 years ago, Tennessee had 1,128 pedestrian accidents. Below are last year's statistics for counties in Middle Tennessee*:
Bedford – 12
Cannon – 1
Cheatham – 17
Clay – 1
Coffee – 13
Cumberland – 11
Davidson – 358
Dickson – 2
Franklin – 7
Grundy – 1
Hickman – 5
Humphreys – 3
Lawrence – 21
Lincoln – 3
Marshall – 3
Maury – 11
McMinn – 5
Montgomery – 39
Moore – 1
Overton – 3
Putnam – 12
Robertson – 7
Rutherford – 47
Smith- 1
Sumner – 16
Tipton – 3
Warren – 4
White – 2
Williamson – 23
Wilson – 15
* Please note these statistics do NOT include pedestrian accidents in parking lots, of which there are a lot. And, they do not include private property crashes involving pedestrians or crashes that involved less than $400 property damage to the vehicle.
If you or a loved one has been injured in a pedestrian accident, you can discuss your case with one of our award-winning lawyers in a free, no-obligation consultation in which we will review your accident, answer your questions and clearly explain your legal options. All you have to do is call us at 615-742-4880 (Nashville) or 615-867-9900 (Murfreesboro) or 866-812-8787 (toll-free). We handle all pedestrian accident cases on a contingency basis so we only get paid if we recover money for you.