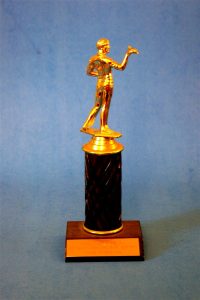 Our 9 year-old daughter loves telling jokes and pulling little pranks. When she finds one that really hits the mark, she will tell it over and over and each time she will giggle and say: "It never gets old".  Something else that never gets old is receiving a compliment or an award. And we are pleased to announce that for the 25th year in a row, John Day has been selected by his attorney peers for inclusion in the 23rd Edition of The Best Lawyers in America. And, for the 10th year in a row, John was honored in five separate categories:
Personal Injury Litigation – Plaintiffs
Medical Malpractice Law – Plaintiffs
Product Liability Litigation – Plaintiffs
Bet-the-Company Litigation
Commerical Litigation
And, we are delighted to say that John is not the only lawyer in our office being recognized by Best Lawyers. Brandon Bass was also included for Personal Litigation – Plaintiffs.
At The Law Offices of John Day, P.C., we are proud of the awards our attorneys have received for their work helping accident victims and their families. Our team has been recognized for excellence by: Super Lawyers, The Nashville Business Journal, U.S. News and World Reports, The Nashville Post, Avvo, Martindale-Hubble and others. But, as we often say, the recognition we are most proud of is from our clients. If you are considering hiring a lawyer, we encourage you to visit our client testimonials page and see what our former clients have to say about their experience with our firm.
We know that selecting a personal injury lawyer can be confusing and stressful. We have tried to alleviate some of that by creating a list of questions you should ask and factors you should consider before hiring us or any other injury lawyer. But recently, we realized we needed to add one more thing to the list: the number of television commercials the lawyer has been in is not a reliable factor for hiring an injury attorney.
Now, this may seem odd since our firm advertises. But it really makes perfect sense. We advertise to let people know we exist then we let our credentials and experience take it from there. In contrast, some lawyers advertise and then brag about how many ads they have appeared in rather than what they have accomplished for their clients. Indeed, one lawyer's website boasts that he has been in over 100,000 ads for 50 different types of cases. So when hiring a lawyer, in addition to awards, client testimonials and the other things on our list, be wary of a lawyer who spends more time highlighting his or her marketing skills than highlighting their lawyering skills.
As always, we are here to provide free consultations for injury victims. For no charge whatsoever, we will review your case, answer your questions and advise you of your legal rights. If you decide to hire us, we handle all accident cases on a contingency basis, so we only get paid if we win. Helping accident victims: it never gets old.
To get started, give us a call at 615-742-4880 (Nashville) or 615-867-9900 (Murfreesboro) or 866-812-8787 (toll-free).