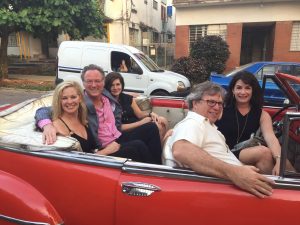 Since President Obama began trying to normalize relations with Cuba, my wife and I have wanted to travel to the country, but the United States still bans general tourism to Cuba.  Visitors must fall within 12 officially authorized categories.  So we were thrilled when the Nashville Bar Association organized a People to People educational trip to Havana from April 1st to April 5th.  During our trip, we enjoyed a performance by an incredibly talented youth orchestra, heard lectures by some very bright professors on Cuba-US relations and the Cuban economy, toured Hemingway's home, went to Fusterlandia, visited a Cuban art museum, had a great walking tour of Old Havana and much more.  Here are some tidbits and one very important take-away from our trip:
Everyone knows Cuban cigars are the best. But did you know that Cuban cigar factories employ a reader?  This position has been around for decades and is highly coveted.  The reader sits in the factory with the cigar rollers and reads the news, literature and even poetry to the workers while they work.
Some of the best restaurants in Cuba are paladares, which are private homes turned restaurants. We ate lunch and dinner exclusively at paladares and enjoyed some delicious food. Cubans make a mean mojito (their daiquiris are pretty outstanding too).  Their Moors and Christians (or Moros y Christianos), flan and ceviche were all excellent as well.
The Cuban people are kind and gracious. Just like Americans, they take pride in their culture and country but were welcoming to us as U.S. visitors (not tourists as U.S. tourists are not allowed).
There are still a lot of antique cars in Cuba. While most of them are U.S. brands, there are some old Russian cars too.  One of the cars we rode in was almost 80 years old, so it is fair to say that Cuban mechanics are inventive and resourceful.  As a side note, many Cubans regard the old cars as almost a Disney World type of tourist attraction.  But the reality is that importing a car into Cuba is exorbitant and those vehicles fill a very real need.  On the trip to Hemingway's home, our tour bus shared the road with pedi-cabs, horses and buggies, antique autos and a few newer model vehicles.  Transportation takes all forms in Cuba.
In Cuba, the government provides lawyers to its citizens for all of their legal needs such as criminal defense, wills, etc. However, a top-notch lawyer can be a difference maker and so many Cubans will pay extra to get the highest quality lawyer.  Of course, the same is true in the United States; the right lawyer can make a difference.  So we encourage you to do your research and ask the right questions before hiring a lawyer to handle your injury case.  We invite you to review our website for our credentials, our successes and our client testimonials.  And remember, unlike in Cuba where you have to pay to get a high quality lawyer, at The Law Offices of John Day, P.C., our award-winning lawyers handle all injury cases on a contingency basis, which means we only get paid if we win and we advance all case expenses so you are not out of pocket to pursue your legal rights
If you would like a free, no-obligation case evaluation, just give us a call at 615-742-4880 (Brentwood) or 615-867-9900 (Murfreesboro) or toll-free from anywhere at 866-812-8787.  We have been privileged to help thousands of satisfied clients and we would be honored to help you too.