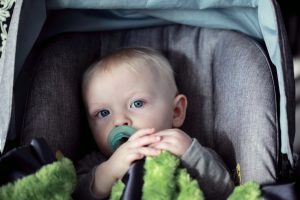 Motor vehicle accidents are a leading cause of death for children, and this week is Child Passenger Safety Week to try and raise awareness about how to prevent child passenger injuries and deaths.  When used properly, car safety seats can reduce the risk of death by 70% in infants under 1 year of age and 54% in children in the 1 to 4 age range. So if you are a parent, grandparent, nanny, babysitter or have any reason to be driving children around, take a minute and review these important safety tips.
Most importantly, buckle them up and buckle them up properly.  Over 600,000 children under age 14 will ride without a safety restraint at least some time during the year.  Tennessee law requires children to be properly restrained.  But even when children are buckled up, 50% of the time the car seat is installed improperly.  The car seat should be the correct size for the age and size of the child.  The car seat should be facing correctly.  The American Academy of Pediatricians recommends keeping children in rear-facing car seats for as long as possible and, when they finally outgrow the forward-facing child seat, children should be most likely be moved to a booster seat.  Read the owner's manual for both your vehicle and the car seat to make sure it is appropriate for your child and properly installed.  And then, if possible, put the child in the middle of the back seat as that is the safest place for them.  You can use this link to find a car seat expert who can check your car seat.
Be sure to register your car seat with the manufacturer.  By doing so, you will be in their database and can be notified in the event a defect or problem is detected with the car seat.  Likewise, be sure to register your vehicle with the manufacturer – this is typically automatic if you purchase your vehicle from an authorized dealership but if you purchase your vehicle used or if you have moved since your purchase, update your information with the manufacturer so that you can receive prompt notices of any problems or issues.
Yesterday was the first day of fall and as we make our way to chillier temps, it is important to remember that children should not ride in a car seat while wearing anything bulkier than the thickness of a sweatshirt.  In a crash, the fabric and filling of a bulky coat will compress and possibly allow more movement within the seatbelt harness than is desired which will result in reduced protection from the safety harness.  So take off any bulky coats before you place a child in the car seat and use blankets, gloves and hats to keep them warm once they are buckled in.
And one last safety tip for car seats that does not relate to crashes but instead Sudden Infant Death Syndrome (SIDS).  The American Academy of Pediatricians recommends removing a sleeping child from a car seat when not traveling because extended sleeping in a car seat has an increased risk of SIDS.  No one, and I do mean no one, wants to wake up a sleeping child, but when you get where you are going, experts recommend putting the child in a bassinet, crib, etc. rather than allowing them to continue sleeping in the car seat.
That's it.  Stay safe out there.  And if you or one of your children has been injured in car accident, give us a call for a free, no-obligation consultation to see if we can help.  We handle all car accident cases on a contingency basis so we only get paid if we recover money for you.
Nashville: 615-669-3993
Murfreesboro: 615-867-9900
Brentwood: 615-742-4880
Toll-Free: 866-812-8787
Photo by Sharon McCutcheon on Unsplash