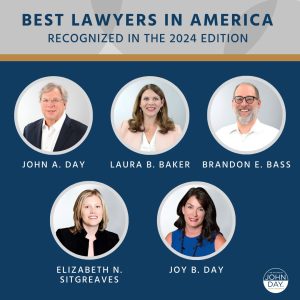 Five lawyers at The Law Offices of John Day have been recognized by Best Lawyers.   The categories in which at least one of our five lawyers were recognized were: Personal Injury, Medical Malpractice Litigation, Product Liability Litigation, Bet-the-Company Litigation and Commercial Litigation. What is Best Lawyers and why should you care?  Best Lawyers is an organization that only recognizes lawyers who have been nominated and voted on by their professional peers through more than 13 million evaluations across 76 counties.  This year, after that laborious process, Best Lawyers recognized and listed 159,987 lawyers.  So why is this important?
If you want to talk to an attorney about a legal issue, you can utilize Best Lawyers to search for a lawyer and determine if they survived the peer-review process.  If other lawyers think a particular lawyer is highly competent then that gives consumers confidence when selecting a lawyer for their legal issue, regardless of the type.  The reality is that your selection of a lawyer can mean the difference between going home or going to jail in a criminal case.  It can make a huge difference in the amount of taxes you pay in an estate matter, and it can mean the difference between winning or losing your injury case.
Of course, Best Lawyers is not the only source you should check when hiring a lawyer.  It is a good starting point, but you have more homework to do than just that.   Here are ten additional tips for finding the right lawyer for your legal issue:
If you know judges or other lawyers, ask them who they would recommend – a more informal version of Best Lawyers.
Review the lawyers' website. Is your legal issue something they routinely handle?
Has the lawyer been recognized by any other reputable sources such as The Nashville Business Journal, U.S. News and World Reports, Martindale-Hubbell, Super Lawyers, etc.?
Review the lawyers' client testimonials on their website to see if former clients have been happy with the lawyer's work.
Similarly, check Google and Facebook reviews to see how past clients feel about the lawyer's performance.
In Tennessee, you can check to see if the lawyer has any disciplinary issues from The Board of Professional Responsibility. One note on this particular point: some fields of law are notorious for having a higher incidence of disciplinary complaints , for example, in the area of domestic relations.  Therefore, complaints are not a red flag but actual discipline from the Board is a red flag especially if there is a history of discipline.
Does the lawyer have legal malpractice insurance in case something goes wrong? You might be surprised to learn that some lawyers have made a choice not to carry it.
Interview the lawyer. Do you have confidence in them?  Is it someone you can envision working with through a difficult period in your life?   What is their workload so that you can determine if your legal issue is going to get the attention it deserves.
Is your lawyer board-certified for your type of case?
Understand the financial side of the legal representation. Does your lawyer have sufficient resources to handle your case? Will you have to pay anything out of pocket?  Does the lawyer charge interest on any monies that the firm advances?
For more information on these topics, visit our How to Select a Personal Injury Attorney page or give us a call at one of our three convenient Middle Tennessee locations.  We would love to have the opportunity to interview to be your lawyer.
Nashville: 615-669-3993
Murfreesboro: 615-867-9900
Brentwood: 615-742-4880
Toll-Free: 866-812-8787