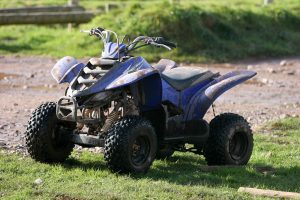 Jamie Lynn Spears' daughter's accident reminds us that all-terrain vehicles (ATVs) can be very dangerous for children.  Spears' 8-year old daughter's ATV accidentally went into a pond on the property and the girl was trapped underwater for several minutes.  Thankfully, the child appears to have escaped the incident without any neurological injuries.
Unfortunately, Spears' accident is not uncommon.  In 2015 alone, 58 children were killed and nearly 27,000 were injured in ATV accidents.  So what age is the appropriate age for ATVS and what steps can be taken to prevent an ATV accident?Sixteen is the age most experts recommend for ATV operation.  The American Academy of Pediatrics recommends children be 16 years old so that operators are developmentally capable of handling a machine that is fast, powerful and heavy.  The Recreational Off-Highway Vehicle Association also sets the bar at age 16.  The Consumer Product Safety Commission also recommends children be over age 16 before operating an ATV.
What else can you do to keep your ATV ride fun and safe?  Below are a few safety tips recommended by various experts:
Keep your ATV in good condition. Regular maintenance by an authorized repair facility  is a must and always check tires and other safety equipment before the ride.
Take a safety course to learn best practices.
Take the time to practice operating your machine. Get a feel for how it handles on different terrain, its stopping distances, with passengers or other loads on board, etc.
Wear appropriate safety gear including a DOT-approved helmet, eye protection if your helmet does not provide it, etc.
Do not operate your vehicle under the influence of any drugs or alcohol as both judgment and reaction time will be impaired.
Do not drive distracted. Selfies, texts, phone calls and the like can wait until you are done with your ride.
Make sure your speed is appropriate for terrain and weather conditions.
Always be on the lookout for hazards and be ready to respond appropriately.
Read your owner's manual before using your vehicle.
If you are driving with passengers, remember that you are responsible for their safety.
John and Joy Day's first date was an epic 17-hour day of motorcycle riding and hiking.  Both love motorbikes and love to be outdoors, so they understand the attraction to ATVs but urge riders to enjoy them responsibly.
In the event you or a loved one is involved in ATV accident, we will be happy to provide a free, confidential, no-pressure case evaluation.  If we think we can help you and your family and you decide to hire us, we handle all ATV accident cases on a contingency basis so we only get paid if we recover money for you.  To get started, simply give us a call at 615-742-4880 (Nashville) or 615-867-9900 (Murfreesboro) or 866-812-8787 (toll-free).  Or, if you prefer, you can contact us online and we will call you.  But, do not delay.  The law only allows you a limited time to pursue your legal rights.  We have helped our satisfied clients recover millions of dollars and we are here to help you too.