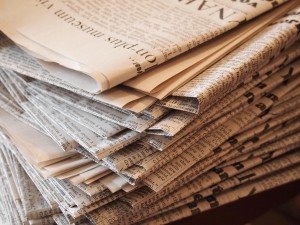 The last two posts have been about the John Jay High School incident in which two players purposefully hit a referee from behind and then while he was lying prone on the ground. The first post examined Tennessee civil (not criminal) law on assault and battery. The second post reviewed the defense of provocation because the players claimed they were provoked by the referee's use of racial slurs against them. On our final post on this incident, we will discuss Tennessee's law on defamation. The referee has insinuated he might take legal action against the players for falsely stating he made racist remarks to, in what he believes, justify their battery of him.   And yes, this all really did start as part of a high school football game.
Under Tennessee law, defamation can take two forms: slander and libel. Libel is a written defamatory statement and slander is a spoken defamatory statement.   If someone has slandered you, then you have 6 months to bring suit. If someone has committed libel against you, you have one year to bring suit. To prove a case for defamation, you must show: 
The defendant published a statement i.e., said or wrote something defamatory about you to someone else.
The defendant made the statement with knowledge that it was false and defaming i.e. they did it on purpose or they did it with a reckless disregard of whether it was false or with negligence in failing to learn the truth of the statement.
And you suffered actual damages in the form of injury to your character or reputation.
Generally, one of the hardest parts of a defamation lawsuit is determining the damages. The jury or court cannot just presume your reputation was damaged. You must demonstrate some type of out-of-pocket loss (for example, a cancelled job or contract), personal humiliation, mental anguish and suffering, loss of reputation in the community, etc.
Tennessee defamation law has lots of nuances to it. There are separate rules for public and private figures. For example, a public figure like the Mayor of Nashville has to prove the person who defamed her did so with actual malice. Such a showing is not necessary in most cases involving private individuals. Moreover, some defamation is conditionally privileged. For a defamatory statement to be privileged, the person making the statement must have done so in good faith and in order protect the public interest.   For example, a co-worker reports that a physician is not medically fit to continue practicing because of a drug addiction. And, of course, the truth is always a complete defense. So you can call someone a thief if they have been convicted of the crime or you can otherwise prove it.
At the Law Offices of John Day, our award-winning attorneys handle all types of injury and death cases. If you think you have a case and you would like to discuss it in a free, no-obligation consultation, then just give us a call. We handle all injury and death cases on a contingency basis so we only get paid if we recover money for you. We have helped our satisfied clients recover millions of dollars and we would like to help you too. Call us at 615-742-4880 (Nashville) or 615-867-9900 (Murfreesboro) or 866-812-8787 (toll-free).